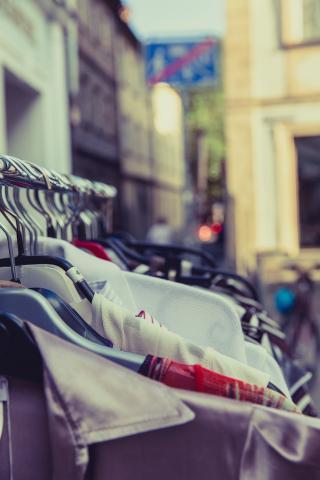 Anyone who knows me well knows that I am the most loyal and dedicated thrift store shopper. Whether I need a basic item for the kitchen or a staple item to complete an outfit, I check out my thrift store first. If I could find everything I needed second hand, I'd never shop anywhere else…but this is not the reality. Even so, your local thrift store is an amazing resource for many reasons.
First and foremost, it's local! Buying some lightly used secondhand items from a small local thrift store – rather than from big department/box stores – is a small choice that can make a big difference over time. Not to mention, exploring your local thrift store can spark some creative ideas and new inspiration. My mom always used to take us to thrift stores to find the most strange and unique Halloween costumes and theme party outfits, for example. I often go to my local thrift store to pick up things like planting pots and vases, picture frames, funky kitchen utensils, and small items for arts and crafts projects to do with kids, as well.
Here are six other reasons why I love making a trip to my local thrift store:
Reduce, Reuse, Recycle!
This is a bit obvious, but cannot be overstated. Shopping at your local thrift store is a wonderful way to reduce your waste, reuse lightly used items, and recycle anything from clothing to pots and pans to furniture. Plus, doing this feels good!
Support a Cause
Most local thrift stores function as a nonprofit, either facilitating associated charity work or representing a local organization that supports a community cause. For example, The Salvation Army engages in mission work and Goodwill stores help with job training. (Personal plug: Although these two companies are technically non-profits, I prefer to support smaller thrift shops because I feel that they are a bit more humble in their values. That said, shopping at thrift stores allows you to be conscientious about the causes with which you most identify.)
Give and Take: Donate
While supporting local thrift stores and their cause by making purchases is great, it's a two-way street when you support your local thrift store. It's nice to also give back by donating some items that no longer serve you. I find that I enjoy purging more when I take items to my local thrift store because I know that someone may enjoy an item that was once mine.
Save Money
Secondhand items rarely cost more than a couple of dollars, and so buying lightly used items instead of brand new can lead to savings over time. Likewise, picking up items or styles you might not otherwise try out/on doesn't break the bank.
Pick Up a Piece of History
Many [older] folks who are cleaning out the garage/basement/attic/estate bring items to the local thrift store, since some places allow you to write off large donations. This makes thrift stores a great place to find unique, one-off items that are hard to find elsewhere. Just the other day, I found a fabulous vintage Neapolitan drip coffee pot, and the older lady in the shop explained to me how they were used during WWII.
Find Some Hidden Gems
Perhaps my favorite aspect of thrift shopping is the thrill of the search! I never exactly know what unique and curious items I may find, but I always find something inexpensive, useful, and full of character. Especially now, special medias like records, tapes, CDs, VHS (even DVDs!) and obscure books are cheap and available in droves at thrift stores. (Also, I've recently found some amazing Le Creuset pots here in France, and always get compliments on the Nike street shoes I thrifted for $5!)
*Side note: Of course, it's important to note that there are some things you may want to be wary of purchasing secondhand. Sheets, blankets, and towels can be intimate parts of the home; I generally stay away from buying these secondhand, unless it's for a painting project or to use as some sort of rag. If I buy a pair of used shoes, I'll take out the inserts, shake some baking powder inside, and leave them in the sun for a few hours. You should always immediately wash any items you purchase, too.