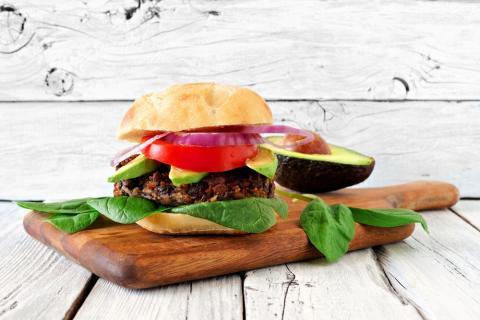 It's hard to find a good veggie burger, but once you've found one…you know to never let it go. I was looking for a way to shake up my lunch routine and went to go buy some veggie burgers. I read the package after I bought them and saw that they had a ton of preservatives, soy, and gluten in them, which are a no-go for me. I decided to pitch them and come up with my own veggie burger and ended up creating the BEST mushroom black bean burger on the planet. 
The nice thing about these burgers is that they are great for people who have food allergies as well as people who are on special diets such as gluten-free or paleo. The ingredients are simple and cheap and the meal comes together in a snap. I like to store the patties in the freezer so when the craving hits, I have a yummy burger on call when I want it. 
Mushroom Black Bean Burgers (Vegan)
Ingredients
2 Portobello mushroom caps
1 medium onion
2 Tablespoons ground cashews or almonds
2 small cans black beans
2 Tablespoons chili powder
1 Tablespoon cumin
1 teaspoon salt (plus more to taste)
ground pepper
1/2 cup chopped cilantro
Directions
Chop up the onion and mushrooms and then fry them in coconut or olive oil in a large pan until soft and tender. This should take about 15 minutes.
Once they are cooked through, take the pan off the heat and add in the rest of the ingredients. Stir until all combined.
Next, add the contents of the pan into a food processor and grind until relatively smooth (you'll still want a bit of chunkiness in there for texture).
Once you've ground it up thoroughly, grab a cookie sheet and line it with parchment paper. Scoop out large spoonfuls of the veggie burger mix and form it into a patty shape. It's going to be a pretty "loose and wet" mixture but that's what you want for an optimally moist veggie burger.
Throw down your patties onto the cookie sheet and then set in the freezer until frozen. Transfer to a freezer bag and you've got a veggie burger ready to go when you need it!
To cook them, place in the oven on parchment paper at 375F for 50 minutes, flipping halfway through. It seems like a long time, but trust me, it's necessary to form a nice, crisp crust on the outside. 
Additional Cooking Notes
I like to have my burger in a green wrap using an iceberg lettuce leaf and then top it with dijon mustard, pickles, tomato, onion, hot sauce, and avocado. Feel free to use any sort of burger topping that tickles your fancy. 
I also like to serve these burgers with some sweet potato fries which can be easily whipped up alongside your veggie burger prep. Simply toss some cubed sweet potato with some coconut oil, add a generous helping of salt, and cook alongside your veggie burgers at 375F for 50 minutes, flipping half way through.