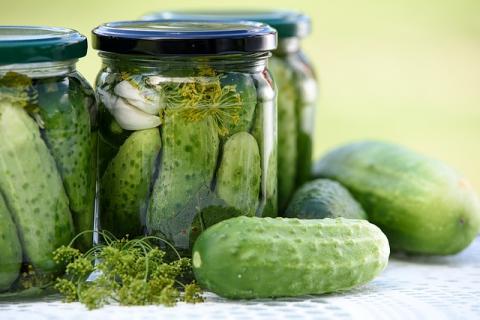 Andy Renard, Fermentation and Preservation Lead at Three Stone Hearth in Berkeley, California, told a group of parents and kids that "all my ferments sing to me," through their bubbling and burping in the kitchen.
Originally founded in Berkeley in 2006, Three Stone Hearth sells meals from their kitchen and offers education to the community about nutrient-dense foods. This community-supported kitchen follows many guidelines recommended by the Weston Price Foundation, based on the work of dentist Dr. Weston Price, a pioneer in vitamin absorption in the diet. In the early 1930s, Dr. Price traveled the globe and discovered that fat-soluble vitamins A and D  are vital to health and aid in mineral absorption and protein utilization. Fermentation plays a big role here.
I attended a family workshop at Three Stone Hearth about making your own pickles, a process based on wild fermentation using bacteria (lactobacillus) that occur naturally in the environment. Here's the recipe for making great classic sour pickles, traditionally done in open air and sunlight. They are easy to do as a fun project with your kids -- plus, the pickles are ready to eat within three days. You'll need a least one quart-sized canning jar. You may want more.)
Ingredients:
Pickling cucumbers
Coarse sea salt
Fresh dill
Grape, oak, or fig leaves
Pickling spices (list to follow)
Crushed garlic (optional)
Horseradish (optional)
Pickling Spices:
Use pickling spices according to your own taste. There are two pickling spice lists. Choose no more than four from the first list (but you can also add less). Use of fresh ingredients is suggested. 
Horseradish
Ginger
Garlic
Dill
Bay leaves
Grape, oak, or fig leaves
Now choose no more than three pickling spices from the following list, adding about a half to a quarter of a teaspoon for each ingredient:
Mustard seed, brown or red
Coriander seed
Celery seed
Peppercorns (black or red)
Juniper berry (no more than one berry)
Bay leaf
Red chili pepper flakes
Putting it all together:
1. Cut and place cucumbers into a quart canning jar.  You'll find that six spears fit nicely. Don't pack too tightly because you'll want to leave room for all those wonderful pickling spices.
2. Add pickling spices. Add pickling spices from the above lists in the recommended quantities.
3. Add brine. At the heart of most classic pickling recipes, you'll find a brine. Mix two to three tablespoons of sea salt per quart of non-chlorinated water.  Spring water is good to use. Chlorinated water kills bacteria. You can use the stuff from your tap, but the pickles won't be as delicious. Depending on how sour you like your pickles, choose the appropriate amount of salt, between two to three tablespoons. Pour the brine over your pickles and spices.
4. Cover your jar with grape, oak, or fig leaves. These additions provide tannins that give pickles an extra crunch. The leaves also discourage molds from finding a home in your pickle jar.
You're almost done. Lid your pickles and set on the counter or a window ledge for about three days.  The sun will aid in the fermentation process.  Each day, open the jar to "burp" your baby pickles, allowing gases to escape. When your pickles are done, you can place the jar in the refrigerator. The pickles will continue to ferment, but at a slower rate.
Three Stone Hearth is located at 1581 University Avenue in Berkeley, CA.  Their phone number is 510-981-1334. Find their website at www.threestonehearth.com. For more information about fermentation, read Wild Fermentation by Sandor Ellix Katz.