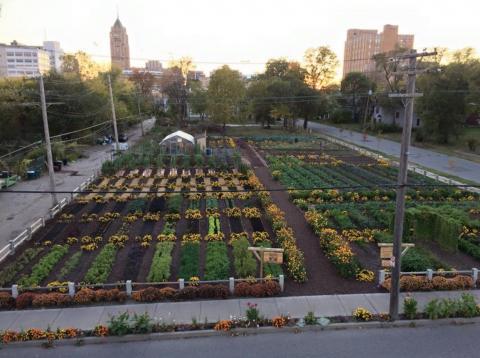 Urban agrihoods are an innovative creative movement in green city-development and urban agriculture. Agrihoods are neighborhoods that center on and are strongly connected to a working farm and they have previously been found in rural and suburban areas. The Michigan Urban Farming Initiative (MUFI) is changing that by establishing America's first sustainable urban agrihood in Detroit's North End.
MUFI is already a volunteer-run urban farm that contains an orchard and children's sensory garden. They grow about 300 types of produce and since 2012 have freely distributed more than 50,000 pounds of food to over 2,000 households, food pantries, churches and other groups within a two square mile area.
MUFI's volunteer leadership all live in the evolving agrihood, which helps them to build meaningful community relationships. Tyson Gersh, MUFI's president and co-founder, said people are drawn to live in the agrihood and that "this is part of a larger trend occurring across the country in which people are redefining what life in the urban environment looks like."
The cornerstone of the MUFI's agrihood-in-development will be an energy-efficient Community Resource Center (CRC). They plan to establish the CRC across the street from the farm in a long-vacant, three-story apartment complex. A MUFI press release explains the CRC will contain a commercial kitchen, non-profit incubator and healthy food café. MUFI will use the CRC to offer their neighbors opportunities in agricultural skill development, cooking, and nutritional literacy. They also plan to build raised garden beds for new community gardening initiatives around the CRC.
Gersh told Crain's Detroit, "you cannot be afraid of failure; that's how innovation works," in reference to the new agrihood CRC. MUFI has now successfully crowdfunded $50,983 from 199 patrons for the agrihood's CRC. The Michigan Economic Development Corporation's (MEDC) "Public Spaces Community Places" program provides matching funding of up to $50,000 for community improvement projects like the CRC throughout Michigan.
"MUFI's urban agrihood aims to provide a community gathering space surrounding healthy food, education, and low-cost, home-grown fresh food options," said MEDC Senior Community Assistance Team Specialist, Nate Scramlin. "We see this place as a community hub where residents can come together, share ideas and learn new ways to provide nourishment for themselves and to their neighbors all while enjoying the fruits of their own labor."
Green Spaces Are Good For Us!
Along with allowing us to breathe cleaner air, eat healthier food and interact with our neighbors, urban green spaces like agrihoods offer city dwellers the vital experience of just being in nature. Playing in nature is especially important in helping children to "develop the capacities for creativity, problem-solving and emotional and intellectual development," wrote Dr. Stephen R. Kellert in his book, Building for Life: Designing and Understanding the Human-Nature Connection.
Nature immersion is essential for adults as well, says Richard Louv, who coined the term the "nature-deficit disorder." He writes that contemporary adults must choose whether to move away from any meaningful connection with nature or to experience a renewal of natural connection in reimagined urban spaces.
Further evidence is found in a 2010 study in the Journal of Environmental Psychology, which reports that spending time outdoors is associated with greater vitality. "We have a natural connection with living things," says co-author Richard Ryan; "nature is something within which we flourish, so having it be more a part of our lives is critical, especially when we live and work in built environments."
If you get the urban gardening itch, with a little exploration, you may discover a farm or other green space near you full of nourishing produce and beautiful plants that is looking for volunteers. Or, you may come across an unloved plot of land that inspires you to create a brand new green space--if you're interested in developing your urban farming skills, the USDA offers a wealth of resources, including an Urban Agriculture Toolkit.