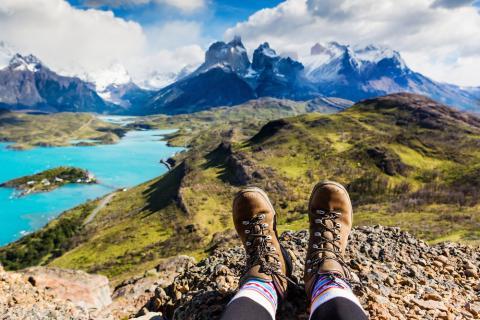 A great hike can happen just about anywhere, at any time. It's a stretch of time to practice a little self-care, show appreciation for nature, and have fun outdoors. Take these components into consideration to prepare, plan around, and savor the next time you treat yourself to an afternoon of fresh mountain air.
1. Good Company
Even if it's just yourself. When you plan (or serendipitously embark on) your next wilderness trek, take inventory of what and who you are bringing with you. Leave your to-do list at home, and don't invite your relationship drama. Forget about the presentation you have to give on Monday. Bring your dog, a clear mind, or a friend who is appreciative and respectful of Mother Nature's playground.
2. Spectacular Sights
The most beautiful view comes after the toughest climbs, they say. But no need to ascend 2,000 feet of elevation or Instagram an unbelievable sunset -- there's beauty to admire wherever you happen to be. Whether you're hiking through the snow-capped Rockies or a footpath in your neighborhood, make a point to stop and take in the richness around you. Snap a photo if you like, or if you left your phone in the glovebox, just pause. Breathe in the fresh, pine-tinged air. Admire a pretty-shaped leaf. Listen to a bird singing. Use your hike to practice noticing -- and you'll find plenty to appreciate.
3. Physical Challenges
Pushing yourself is part of the adventure. If you pick up the pace, get a little out of breath, and release some endorphins, the rewards of getting outside will be even greater. Take advantage of steep pitches and swiftly stride to the top, feeling the burn in your legs. Test your balance on fallen logs. Use your arms and clamber up rocky ridges. But be smart, and know your limits -- if you come to a section of trail with an 8-inch ledge and a sheer drop on one side, consider your options.
4. Some Preparation (at least)
Some of the best hikes are spur-of-the-moment adventures, absolutely. However, it is important to know what you're getting yourself into before you leave the trailhead. Wear closed-toed footwear, comfy clothes, and maybe even a little sunscreen. Have an estimate of how far you'll go, so if necessary you can bring a pack with water, a snack, sunglasses, and maybe a camping hammock in case you find an especially awesome spot to rest. If you're taking an especially long hike, make sure you're prepared for changes in temperature by packing a few layers to pull on or a pack to carry them when you take them off. Always bring an extra pair of quality socks too, if you're going for more than a few hours.
5. Fun!
You're never too old to play outside...so let yourself enjoy it! Climb a tree, run down a hill, hop up on a boulder and crown yourself queen of the park. Don't take yourself too seriously -- say hello to other hikers on the trail, give someone a high five, and pet all the dogs (ask first). Let go of the pressure to capture a perfectly Instagrammable photo and just be out there.
"Live in the sunshine, swim in the sea, drink the wild air." -Ralph Waldo Emerson