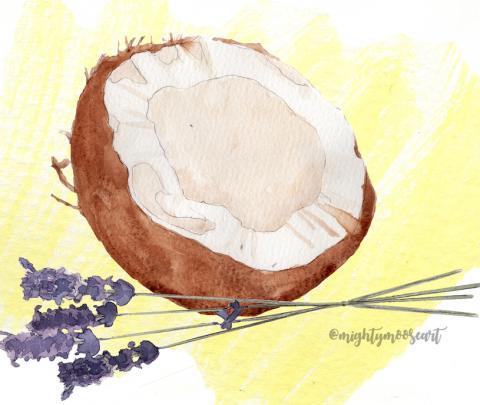 There has been an ongoing debate about store-bought sunscreen that is loaded with chemicals and whether it is safe to use or not. The truth is some of the chemicals that they put in the sunscreen can do more harm than good.
Before we move on to the how-to section of this article I want to share some information about the chemical-based sunscreens. Chemical-based sunscreen soaks into and absorbs through your skin and into the bloodstream, which can potentially wreak havoc on the body. Some of the chemicals that are used are endocrine disruptors. These disruptors promote free radical production and interfere with our hormones' function. The endocrine disruptors disturb the following hormones: Estrogen, Progesterone, Testosterone, & Thyroid.
These disturbances can consist of:
Premature Development In Cis Girls
Low Sperm Count
Breast Cancer
Ovarian Cancer
Prostate Cancer
Infertility
The chemicals that are guilty of such a disruption:
Octisalate
Homosalate
Oxybenzone
Octocrylene
Octinoxate
Now that we know what the dangers are and what chemicals to watch out for, let's discuss some alternate options before moving on to the recipe. If you aren't all about the DIY life there's great news for you when it comes to sunscreen. You can purchase chemical-free and non-toxic sunscreen from many retail shops and online merchants. You can also look for mineral-based sunscreens that are similar to the recipe I am about to share. Let's get to it.
All Natural DIY Sunscreen Recipe
10 Drops Lavender Essential Oil
¾ Cup Coconut Oil
1 Tablespoon Pomegranate Oil
2 Tablespoons Shea Butter
2 Tablespoons Zinc Oxide (non-nano version)
Glass Jar With A Lid
Small Saucepan
Be sure to start out with a clean sanitized jar. Add the lavender, coconut, pomegranate oils, and Shea butter into your jar.
Add about 2-inches of water to the saucepan over low heat and place the jar with the oils and Shea butter into the middle of the saucepan. It is important to slowly stir the contents in the jar to avoid any cooking and to provide a slow and even melt.
Once all of the ingredients are fully melted and stirred well, add the zinc oxide, mix well, and store it in a cool, dry place. This recipe lasts about 8–10 uses for an adult and around 10-15 for little ones.
Warning: The zinc oxide and carrier oils are very important.  One of the mistakes some people make is to apply certain oils directly to their skin without any carrier oils or zinc oxide. Some people also use cooking oil and that's not recommended, either. The important thing about making your own sunscreen is to be sure that the ingredients you are using are organic and natural, but you must also be sure that you are using ingredients that contain natural SPF.
Carrier Oils Containing Natural SPF
Shea Butter SPF 4-6
Coconut Oil SPF 4-6
Almond Oil SPF 4-5
Zinc Oxide SPF 2-20 (This varies based on the amount used.)
Red Raspberry Seed Oil SPF 25-50
Carrot Seed Oil SPF 35-40
It's very crucial to know exactly what you are putting on and into your body. As with many things, sunscreen has a natural alternative that you can choose. Be good to your body and your body will be good to you. This recipe works well for both children and adults. It even helped a little one who is slightly sensitive to getting sunburns and he played outdoors all throughout the summer without one burn at all. If you have time and you or someone you know uses sunscreen I suggest trying a natural alternative to the chemical-based products. Happy crafting, friends!