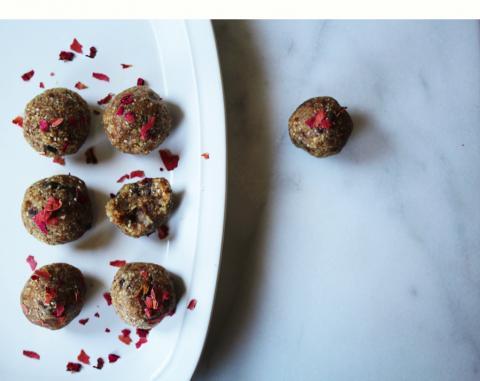 Has hunger ever gotten the best of you midflight and led you to eat those things that the airlines pass off as cookies? I set off on a project recently to create a portable snack that I could take on a plane. I had a few prerequisites: it had to be nutritious and treat-like, meaning it had to feel like some kind of reward for getting myself through airport security and onto the plane with my sanity intact.  The result? Blissful energy bites, the sweetish cashew based snacks pictured above. They're rich in nutrients and fiber from dates, heart healthy almonds, and Omega-3 rich chia seeds, which means they'll give you energy without the dreadful post high sluggishness that simple sugar imparts.  One of the many things I love about them is they offer an opportunity to use cinnamon bark essential oil.  Its deep, perfumy fragrance works well with sweet flavors, and since this is a no-heat recipe, all the nutrients in the oil remain intact. Cinnamon essential oil is purported to increase immunity –  an added bonus when you have to spend time on a stuffy airplane.
This recipe is very easy to put together with a food processor. Here are some prep notes: I like presoaking the nuts, which gives them a creamy texture and makes them easier to digest.  Soak the cashews in water with a little sea salt for a few hours (no more than six hours or the texture and flavor will suffer). The almonds can be soaked the same way, for about 7 hours.  If you'd like to store the nuts after soaking, place them on a baking sheet in a warm oven (no higher than 150° F) for 12-24 hours before keeping them in the refrigerator.  If you don't have time for soaking, skip it, but you might find that you need to use a little more water in the recipe. Also, the dates you choose should be moist and soft. Deglet and Medjool are my preferred varieties. I have a particular fondness for Medjools by Del Real Organic, which consistently have great flavor and texture. In my world, dates and roses are perfect partners, so the day I photographed the bites I garnished them with petals.  Of course, rose petals are beautiful and they've also been used therapeutically across many cultures.
Cooking with essential oils requires a bit of care. In this recipe, use one drop of oil diluted in water, as instructed below. Not letting too much oil escape from the bottle can be tricky at first. Tipping the bottle with one hand and gently tapping it with the ring finger of your other hand will likely do the trick.  If you accidently drop too much oil into the water, drink it and try again (it will taste great).  Using too much essential oil will, without doubt, overpower the other ingredients.  Diluting the oil in water also encourages even flavor distribution. If you don't have essential oil you can substitute ½ teaspoon of cinnamon powder.                       
These bites are kind of like a healthy version of cookie dough.  While they're certainly not diet snacks, they are nutritious and energizing, and they'll satisfy your hunger like nothing on the stewardess' rolling cart. 
No-Bake Blissful Energy Bites
Makes approximately 12 bites
Ingredients
¼ cup raw presoaked almonds
¾ cup raw, presoaked cashews
1 tablespoon coconut oil, melted
1 tablespoon chia seeds
½ cup chopped dates (preferably Medjool)
2 tablespoons water
1/2 teaspoon pure vanilla extract
1/8 teaspoon sea salt
1 drop food grade cinnamon bark essential oil
1/8 cup bitter-sweet chocolate, chopped
Directions
Using a food processor, pulse almonds and cashews until very fine crumbs form.
Combine water, vanilla extract, salt, and cinnamon bark essential oil in a small glass or other nonreactive bowl, stir, and set aside to allow time for the salt to dissolve.
Add coconut oil, chia seeds, and dates to the mixture in the food processor and pulse until smooth. (You might have to stop and scrape down the bowl periodically.) Then add essential oil mixture and pulse again until evenly combined.
Transfer the mixture to a small bowl, add chocolate, and mix with a spoon.
Form into small balls. Eat immediately or refrigerate.  
Photo by Shiraz Leyva