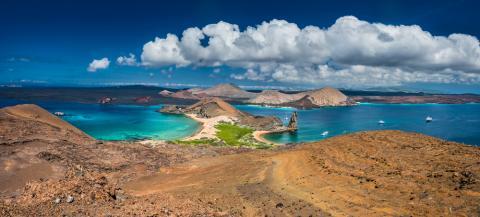 Awareness is growing of humans' impact on oceans, marine life, and the entire global food chain and water cycle. We can all make a few choices to develop eco-friendly beach habits while enjoying the shore this summer.
Mind What You Bring To The Beach
Plastic pollution has gotten far out of control, and while companies and governments slowly begin to respond with more environmentally-friendly materials and regulations, we can all do our part to reduce the amount of plastic that comes into contact with the sea. Choosing reusable, recyclable, or biodegradable containers is a good first step. If you're going to eat at the beach, aim for a waste-free meal.
Kids' toys, pet gear, containers, and bags can also be made out of biodegradable and natural products such as bioplastic, jute, or hemp. Remember to take everything with you that you bring onto the beach. Also, remember that what you use and dispose of at home also becomes part of the planet and affects ocean health.
Respect Local Wildlife
Speaking of pets, be sure to keep dogs on leashes and clean up after them to protect the local wildlife and ecosystem (also, people should not relieve themselves in the water). Don't feed the creatures who live on the beach. Giving food to wild animals can alter their natural feeding and migration patterns or make them ill. 
Don't drive on the beach and leave local plants and animals alone. Some beaches run protection programs for local species that may include installing netting around native nests, such as for sea turtles in North Carolina or piping plovers in Connecticut. Be careful not to disturb these sites.
Choose Sunblock Carefully
Choose a natural sunscreen that is safe for coral. Check the ingredients in your sunblock for coral-friendly minerals like zinc and titanium. Try to avoid products with chemicals like oxybenzone and octinoxate, which harm juvenile coral and lead to bleaching. Corals bleach or turn white when they undergo stress in their environment and expel the symbiotic algae that live in their tissue.
"[Oxybenzone] will cause corals to bleach at 78 degrees [Fahrenheit]," Dr. Craig A. Downs, Ph.D., executive director of Haereticus Environmental Laboratory, said. This is below the coral's typical bleaching temperature range of above 81.7 degrees. These chemicals can cause major damage to reefs within a few hours. Along with the bleaching, ocean acidification, pollution, warmer seas, and disease threaten coral survival. While reefs only cover about 1 percent of the earth and 2 percent of the ocean floor, they house and/or feed about 25 percent of all ocean life and are sometimes called the rainforests of the sea.
Some natural sunscreens contain ingredients like lavender oil, aloe vera, sunflower seed oil, coconut oil, honeysuckle extract, aspen bark extract, and vitamin E. The Environmental Working Group, a non-profit "dedicated to protecting human health and the environment," is a great resource on these topics—it scores personal care products' safety. Using non-aerosol products also limits the spread of human-made products in the marine ecosystem. Making the most of shade, wearing clothes to block the sun's rays, and staying out of the sun during peak UV hours (UV rays in the continental U.S. are usually the most dangerous between 10 a.m. and 4 p.m.) are also eco-friendly ways to protect your skin.
Participate In Local Beach Stewardship
If you want to be even more green, eco-friendly, and supportive of your local beach ecosystem, support local conservation groups and legislation. Do your part to reduce litter and keep the beach clean. "You can use Ocean Conservancy's Cleanswell App to easily record each item of trash you collect, and then share that information with your friends and family," according to Jeff Watters, director of government relations at Ocean Conservancy.
There are likely beach-cleanups, water-monitoring initiatives, and other volunteer opportunities at a shoreline you love. If you enjoy and appreciate the magic of the ocean, give it the love and reverence it deserves.