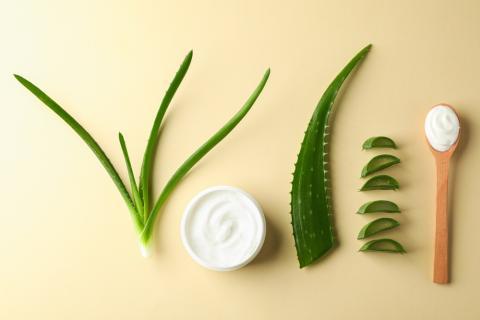 When the weather gets hot and the sun's rays get intense, it might just leave you with a sunburn. While you should definitely be applying sunscreen while out and about, sometimes sunburns are unavoidable. Here are four DIY skin soothers for sunburns you can make yourself. 
DIY After Sun Aloe Vera Lotion 
If you like a thick, creamy topical solution to sunburns, this DIY is the one to try. It's gentle enough to put onto sunburnt skin, but powerful enough to help heal you. Creamy and moisturizing, this will get soaked right up by your damaged skin and speed the healing process along. 
Ingredients
1/2 cup coconut oil 
1-1/2 Tablespoons beeswax pastilles (or 3/4th of a 1 oz. beeswax bar, diced or grated) 
1 Tablespoon shea butter 
1 Tablespoon olive oil 
1 cup aloe vera gel 
5 to 8 drops peppermint or lavender essential oil (optional) 
Directions
Heat the coconut oil, beeswax, shea butter, and olive oil in a modified double boiler, stirring occasionally to combine. 
Once the mixture is liquid, pour it into a glass blender and allow the mixture to cool completely, about one to two hours.
Once the mixture has cooled, and it is slightly hardened, take a spatula and scrape down the sides of the blender to loosen the contents. 
Turn the blender on low and slowly pour the aloe vera gel into the mixture, stopping occasionally to allow the contents to combine. If the mixture gets stuck in the blender, turn the machine off and scrape down the sides of the blender. Whip the mixture by hand until a light, fluffy texture forms.
Once the aloe vera is completely combined, add the essential oil, if desired, and mix well.
Transfer the lotion to an airtight glass container. You can now apply this anywhere your skin needs some extra attention! Just scoop some up with your fingers and rub it on. 
Aloe Rose Skin Soothing Gel 
If you have a rose bush growing in your yard, or just love the scent of roses in general, definitely give this DIY a go. Roses are great for soothing your skin, so combined with aloe vera gel, it really makes a powerful sunburn reliever. Plus, the gel will be a pretty pink color and smell great! 
Ingredients
1/3 cup aloe vera gel  
1/3 cup fresh rose petals 
Directions
Place the petals and aloe vera gel in a food processor. Blend them together thoroughly. You might notice it gets a little frothy in the process, but that's not an issue. 
After blending, strain the now pink aloe juice from the rose petal pieces. Because the mixture is so thick, you'll need to rub it through a mesh sieve or something similar. Squeeze and press on the petals to get every last drop out.  
Store your finished aloe rose gel in the refrigerator. It should stay fresh for around a week, so make sure to whip this up whenever you plan on spending time in the sun. For longer storage, freeze the gel in an ice cube tray, then store the individual cubes in the freezer for future use. 
Sunburn Relief Spray 
If you prefer sprays instead of topical creams, this is the DIY for you. You can just spritz this onto your skin anywhere you have sunburn for some cooling, refreshing relief. It'll not only help your skin heal, but also feel great when you're spritzing it on! 
Ingredients
1/2 cup aloe vera gel 
1/4 cup prepared chamomile tea 
1/4 cup witch hazel 
15 drops lavender essential oil 
2 drops peppermint essential oil 
Directions
Combine the chamomile tea, witch hazel, aloe vera gel, and essential oils in a small spray bottle. You can filter it in mess-free using a funnel. 
Replace the cap and shake well to combine. Make sure to give it a shake before each use! Spray where needed. 
Cucumber Sunburn Relief Facial Gel 
Whenever you get sunburn on your face it can be particularly uncomfortable. Thankfully, this facial gel will help quell any sunburn you may feel on your face. Just apply it gently to the areas of your face that need it most. Your skin will enjoy the relief! 
Ingredients
2 Tablespoons aloe vera gel (directly from aloe plant) 
1/4 cucumber 
1 teaspoon vitamin E 
4 to 5 drops lavender essential oil 
Directions
Get the gel out of your aloe vera leaf by using a sharp knife to cut the top layer of skin off and then using your fingers to scrape the gel off.  
Peel the cucumber and cut it into cubes before throwing it into a blender or food processor with the aloe vera gel. Once combined and smooth, add the vitamin E and lavender essential oil. Blend for about 30 more seconds before pouring into a glass jar. 
Refrigerate for about an hour before using, then continue to store it in the fridge to keep it extra cool and refreshing. You can directly apply it to your face—there's no need to wipe it off afterwards, and a little goes a long way. 
Which of these skin soothers will you try? For more ways to protect your skin, here are 5 foods that fight sun damage. Also, don't forget to make your own summer essentials kit!