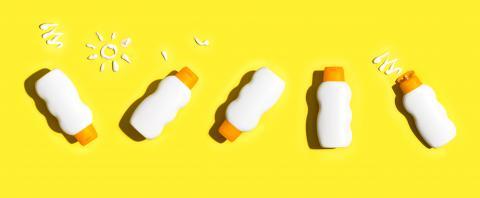 With so many options available in the market, why are we asking you to whip up your own sunscreens? To keep those dicey, harmful chemicals away from your skin—and the environment!
The time to act is now. Each day we humans are basically digging ourselves deeper into an environmental hole that many not revolt during our lifetime, but may take its revenge on our future generations. But future predictions need not be all dark and dramatic. We can start taking a few baby steps on an everyday basis—steps that consciously work towards protecting the environment from harsh chemicals—and our skin as well. Obviously, we need to protect our skin from the sun to avoid all sorts of sun-induced skin issues, but our SPF needs to be safe. So a homemade sunscreen goes a long way in making sure that our skin remains healthy even in summers.
Are All Sunscreens Bad?
This is not to say that all sunscreens proclaim that the end is nigh—with the advent of organic and natural cosmetics in the market, you can carefully weed out the harmful ones from the good sunscreens. In case you are wondering which ingredients you need to look out for, make sure your sunscreen does not contain any of these super-villains!
Oxybenzone & Octinoxate: These are chemicals that help other chemicals break the skin barrier and penetrate into the skin. Unfortunately, they are also endocrine disruptors, which means they make hormone levels go haywire. Plus, they react to UV rays, sometimes causing allergies, and the reaction is strong enough to last even when you are out of the sun. They tend to stay in the human body for a long time, and studies have just started to hint at their adverse effects. They may also cause aging to the skin, as many environmental groups claim, but the according to the FDA they are safe enough with no definitive data on them.
Retinyl Palmitate: An active form of vitamin A, retinyl palmitate is an ingredient in not just sunscreens, but also in many anti-aging creams. While there is no definitive research showing that this ingredient can cause damage to the skin, preliminary research indicates that constant use of this product under UV rays can, in turn, cause the skin even more damage. But the FDA is conducting more research into it and for now, retinyl palmitate is considered a safe ingredient to use. You can make your own choice though!
Paraben Preservatives: The bane of all cosmetics is their limited shelf life—to extend it, most if not all cosmetics contain preservatives in the form of parabens (butyl, methyl, ethyl, and propyl). Unfortunately, these chemicals come with their own baggage of health and environmental problems including allergic reactions, hormone disruption, and even a higher incidence of cancers. So while the jury may be out wondering to which degree parabens cause harm, it's a good idea to use less and less of them. Right?
A 4-Ingredient All-Natural Sunscreen Oil
If you are not hitting a place with very harsh sun, and are okay with applying oil to your body in the name of sunscreen, then this one is for all you dry-skinned beauties and hunks out there.
Ingredients
1/2 cup fractionated coconut oil (does not solidify in the cold)
1/2 cup wheat germ oil
20 drops raspberry seed essential oil
20 drops carrot seed essential oil
Directions
Measure and pour out all the oils together in a slightly colored or tinted glass bottle (makes the oils last longer) and shake well before every use. Along with protection from the sun, these oils will also help moisturize and protect even the driest of skins. But we do not recommend this for those with oily skin…Since this recipe is oil-based, it is waterproof to a degree. But keep reapplying every 2-3 hours to make sure your skin remains sun protected always.
A 4-Ingredient Sunscreen, 20-30 SPF
Let's make a very simple and almost effortless sunscreen at home which is not waterproof but does a good job since it gets absorbed well.
Ingredients
1 cup of organic, non-toxic lotion of your choice
3-4 tablespoons non-nano zinc oxide powder. 3 tablespoons will give you a 20SPF, and 4 makes it closer to 30SPF—good protection for the strong sun.
25 drops raspberry seed essential oil (or 25 drops carrot seed essential oil)—both these oils contain about 20-50SPF and help you tan without a burn as well!
1-2 tablespoons cocoa powder (to get a naturalized tint)—if you find your sunscreen too "white," you can add cocoa powder bit by bit to get a more naturalized skin tone.
Directions
Measure and mix the first three ingredients well till you get a smooth paste—you can use a mixer for this. You can apply the sunscreen to check how well it goes with your skin tone and if need be, add the cocoa powder to get a more bronzed shade. (Make sure you add the cocoa powder in bits, too much and your sunscreen will end up looking like an artificial bronzer.) Remember to apply the sunscreen every 2-3 hours when in the sun. Also, remember this sunscreen is not waterproof—so slather on after every dip, splash, or dunk to avoid any skin damage or burn.
A 7-Ingredient Waterproof Sunscreen, 20-30 SPF
If the first two recipe's non-waterproof natures put you off, here's a homemade waterproof sunscreen for you, which is equally easy and inexpensive to make!
Ingredients
1 cup fractionated coconut oil (the kind that doesn't solidify in the cold)
4 tablespoons organic beeswax
1/2 cup aloe vera juice/extract (you can buy an organic version of it at your favorite store, or choose to snip off a leaf. Wash the leaf, pat it dry, and slash it in the middle. Now scoop out the entire pulp you see inside and use it.
1/2 cup organic rose water—not only will rose water give you a lovely fragrance, it will also add to your skin's health and soothe any sun irritations
4 tablespoons nan-nano zinc oxide powder
25 drops raspberry seed essential oil or carrot seed essential oil
Directions
1. First, melt the beeswax with coconut oil in a double boiler. (If you don't have one, don't worry—a double boiler is not complicated mechanism. Boil some water in a big, deep-bottomed pan, and float another smaller heat-proof bowl on top of that water. The idea is to not apply any direct heat to the beeswax lest it burns.)
2. Once the beeswax and coconut oil have melted, switch off the heat.
3. In a separate pan, heat the rose water and aloe vera slightly and give them a good whip with a hand blender to blend well.
4. Now put a big jar onto your mixer and blend the beeswax and coconut oil in it. Slowly add the still-warm rose water and aloe vera to the mixer till it all blends and starts to emulsify. Keep scraping the sides and blending more, till it all emulsifies into a smooth paste and leaves the edges of the mixer completely.
5. Finally, add the essential oils and the zinc oxide and blend a little more. Now transfer to clean and dry jars or squeeze tubes.
We hope you give at least one of these a whirl and this summer on, turn your beauty bag natural—it's good for your skin and for the environment! All three of these sunscreens will keep for at least a month without spoiling. Remember to shake well before use, and make small batches so that your homemade sunscreens remain fresh and healthy for your skin. They are a great gifting option too...Happy summers to you all!