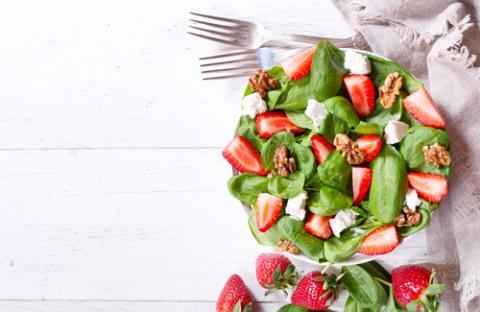 When spring rolls around, you find so many delicious produce items popping up at your local farmers market. It depends on the region you live in, but for me, strawberries, arugula, lettuce, spinach, and asparagus are all on the menu. Here are some spring salads I love whipping up using local, fresh organic ingredients. 
Strawberry Spinach Salad 
This is such a simple, classic spring salad. It's great for when you want something quick and you're craving a healthy but sweet dish. The strawberries add all the sweetness of spring, while the spinach brings the detoxifying power of spring to your palate. This is a meal anyone can enjoy. Make sure to save any water you wash the produce with for watering your plants so it doesn't go to waste!
Ingredients
1 bunch of spinach, rinsed & chopped 
2 cups sliced strawberries 
1-2 handfuls of feta cheese, crumbled (optional) 
1/3 small red onion, chopped
3/4 cup candied or raw pecans (optional) 
chia seeds (optional) 
for the dressing:
1/2 cup balsamic vinegar
1/2 cup olive oil
1 Tablespoon Dijon mustard
1 Tablespoon honey
Directions
Make the candied pecans (if using): Add the chopped nuts to a small nonstick skillet with 1-1/2 tablespoons brown sugar and 1/2 tablespoon butter. Cook over medium heat, stirring constantly until the sugar melts and caramelizes, about 2 to 3 minutes. Then you can transfer them to a plate and let them cool. 
Add the spinach, strawberries, and red onion to a big bowl.
Sprinkle in the feta cheese, chia seeds, and pecans.Make the balsamic vinaigrette: Add 1/2 cup balsamic vinegar to a small saucepan, bring to a boil over medium heat and allow to boil until reduced by half, about 3 minutes. Pour into a jar or bowl, add 1/2 cup olive oil, 1 tablespoon dijon mustard, and 1 tablespoon honey; whisk to blend while seasoning with salt and pepper to taste.  If it's too thick, thin it out with some water.
Drizzle the dressing on the salad right before serving.
Arugula Asparagus Salad 
In the mood for some detoxifying spring greens? Grab some arugula and asparagus for this one. It's so yummy and satisfying you'll find yourself hooked. It also utilizes potatoes, which can usually be found at the farmers market year round. The potatoes definitely add a little something extra to this dish, and I really love it for times when I want strictly vegetables in my salad, no fruit.
Ingredients
12 small Yukon gold potatoes or red potatoes 
1 bunch of asparagus cut into two-inch pieces 
2 Tablespoons olive oil, divided 
2 teaspoons salt, divided 
1 teaspoon pepper, divided 
6 cups arugula 
2 Tablespoons lemon juice 
1 to 2 handfuls of goat cheese (optional) 
Directions
Preheat oven to 450 degrees and scatter potatoes and asparagus on a baking sheet. Drizzle with 1 tablespoon olive oil, 1 teaspoon salt, and 1/2 teaspoon pepper. You can use your hands to mix it all up and give everything an even coat. Then, roast the potatoes and asparagus in the oven until caramelized and tender, about 20 minutes. 
While the vegetables roast, place arugula in a bowl and drizzle with remaining olive oil, salt, and pepper. Add lemon juice, then toss to coat evenly.
Place the roasted potatoes and asparagus on top. Sprinkle in goat cheese, if adding.
The Ultimate Spring Salad 
There's a reason I call this salad the ultimate spring salad. That's because it utilizes everything I can grab at my local farmers market during this time of year and puts it all in one bowl. Are you ready for a taste explosion? You'd better be! The recipe features some of my favorite spring produce. If your farmers market doesn't sell one or two of these ingredients, that's fine: Just replace them with something they do sell and that is seasonal. Perhaps your market sells artichokes instead of asparagus right now? That's cool: Just work with whatever you got. 
Ingredients
1/2 head green leaf lettuce 
2 to 3 leaves romaine lettuce 
2 to 3 leaves kale 
1 handful spinach 
1 dozen strawberries, halved 
6 to 10 asparagus spears, cooked & chopped 
chia seeds (optional) 
sliced almonds (optional) 
Directions
Chop up the kale, lettuce, and spinach however you like. I personally leave the spinach as is, unless it's unusually big. The kale stems I compost, or save and use in stir-fries. Add the chopped salad greens to a big bowl. 
Now chop and cook your asparagus, however you like them (stir fried or boiled).
While the asparagus is cooking, halve your strawberries and add them to your greens.
When the asparagus finishes cooking, add it to the big bowl. Sprinkle in the chia seeds and halved almonds. 
Now, top with your favorite dressing. Personally, I love a good honey mustard or Meyer lemon dressing on it, but any will do. Even just simple lemon and olive oil! Mix the dressing into the salad and enjoy right away, or save the salad for another day and add the dressing whenever you intend on eating it to keep it fresh. 
For more inspiration, check out these other three springtime salads from your farmers market.Also, don't forget about cooking with the seasons, using up all your spring herbs, and celebrating the return of strawberries! 
How are you utilizing spring produce this season?