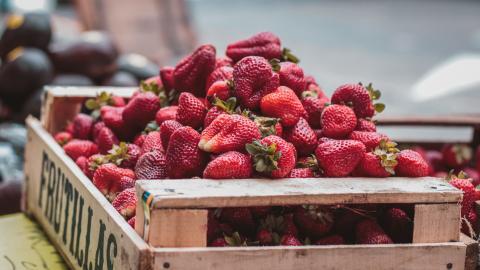 Seeing strawberries at the farmers market tells me one thing: Spring is here. Strawberries are typically the first spring/summer fruit to show up after a long cold winter so I welcome them with open arms. However, they're not just great for eating: Here are 3 ways to use strawberries in your beauty routine.
Strawberries: Choose Organic
Strawberries are the star of the show in the DIY beauty recipes provided below, but it's important to buy them organic first. While you're not eating them (well, at least not the ones you'll be using in the recipes below), you're better off not taking any chances. According to the Environmental Working Group (EWG), a nonprofit organization dedicated to empowering people to live healthier lives in a healthier environment, strawberries are the most pesticide-ridden produce item out there. Every year EWG releases an updated Dirty Dozen list showcasing the 12 most pesticide ridden fruits and vegetables on the market. In 2017, strawberries replaced apples as the most pesticide-ridden produce item on the Dirty Dozen. Suffice it to say, strawberries need to be bought organic if you want to avoid ingesting toxic pesticides along with your fruit. For the recipes below, I highly recommend choosing organic strawberries when you can: Even though you won't be purposely ingesting the strawberries, you'll still be using them on your skin. You want to put only the best ingredients on your skin for the best results, so it's okay to splurge on organic strawberries for the sake of your health. In fact, better yet, get your strawberries at your local farmers market (double check they're grown without pesticides though, just to be safe). Farmers markets are known for not only having fresher food, but everything is grown locally which means it takes less time to get to you, equating to a smaller carbon footprint. You'll be helping the environment and your skin will thank you all at once.
Strawberry Honey Facial Treatment
Every once in a while, your face just needs a treat. Strawberries and honey together definitely make the ultimate treat—for your skin, that is! Believe it or not, strawberries contain multiple acids that help to tighten pores and get rid of annoying dead skin cells. That's why this recipe is so great: It'll leave you with smooth skin you won't want to stop touching. Do this honey facial treatment at least once a week for the best results.
Ingredients
1 small strawberry (or 1/2 of a large berry) 
1 teaspoon of raw honey
Directions
First, make sure to thoroughly mash the strawberry with a fork before stirring in the honey.
When the two ingredients are combined well enough, you can start applying the mix to your face. You might not need all of it, depending on the size of the berry, so if you make too much, refrigerate the extra and use it again the next day.
Let the mask dry and sit on your face for about 10 minutes. It should become a little bit itchy on your skin. When the time is up, rinse the mask off and pat your face dry. You can follow up with your normal skincare routine, specifically a natural moisturizer (you can make your own moisturizer too).
Strawberry Facial Scrub
This facial scrub is a fantastic exfoliator for your skin and can be used on both your face and body. It's so easy to make and you only need three ingredients for it. You might even be tempted to eat it because of how delicious it's going to smell. But trust me when I say you'll be happy you used it on your skin—it'll leave you feeling so refreshed and glowing.
Ingredients
3-4 strawberries
3/4 cup brown sugar
1/4 cup almond oil
Directions
Mash up 3 to 4 strawberries in a bowl and mix in brown sugar and almond oil.
Once thoroughly combined, apply in circular motions to your face. You can also use this on your body too, so feel free to use it all over before jumping into the shower to rinse it off.
Strawberry Teeth Whitener
You would never guess strawberries are good at whitening teeth, but nature is full of surprises. Strawberries naturally contain malic acid, which often works as an astringent to get rid of stains found on your enamel. Add a little baking soda to that mix and you've got a plaque-busting, teeth-polishing solution for cheap. Use it once a week for 2 to 4 minutes for the best results.
Ingredients
1 strawberry 
1/2 teaspoon baking soda 
Directions 
In a bowl, mash the strawberry with a fork, then add 1/2 teaspoon of baking soda. Mix the two ingredients together thoroughly.
Using a toothbrush, apply the mixture to your teeth and brush gently for 2 to 4 minutes.  
Rinse your mouth and floss any strawberry seeds from between your teeth and gums. When you're done, feel free to brush your teeth with another toothbrush to reveal a brighter smile.