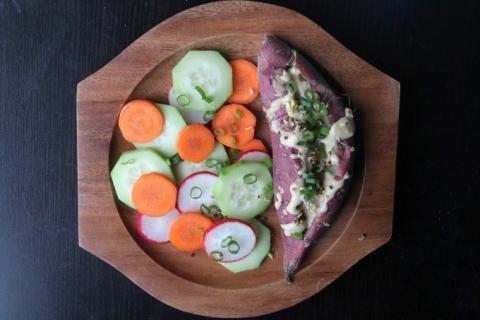 Japanese Yams are worlds above plain old potatoes in both taste and nutrition. Pop one in the oven and you've got an instant fall lunch that will warm you up in seconds flat.
Baked potatoes are the ultimate in comfort food when the temperature starts to drop. The soft, steamy flesh of a recently roasted spud can warm your heart and hug your soul. Japanese Yams have become my favorite fall indulgence. I like to swap my usual russet potato for an exotic Japanese Yam, also known as satsumaimo, which translates to "white sweet potato." These delightfully sweet tubers are grown and shipped from countries such as Vietnam, Japan, China, Indonesia, India and Uganda. They may be called Japanese, but the truth is they are grown all throughout Asia. You can find them in many varieties, the most popular being white-fleshed with a bright magenta skin. They have an almost nutty taste to them and a soft, starchy texture that will surely satisfy your comfort food cravings. In my opinion, Japanese Yams reign supreme in the root vegetable realm in both taste and nutrition. A single yam contains 202% of your daily recommended intake of Vitamin A and 30% of Vitamin C. Praise Yam. Japanese Yams are ideal for Vata-types due to their sweet and moist nature.
As the air gets a little crisper, I'm finding my thoughts to be gravitating towards warming meals that hug your belly from the inside. I recently bought a few yams at the produce stand up the street and decided to have a very balanced lunch of baked Japanese Yam and fresh veggie slices. This is my ode to the classic sweet potato, but instead of drenching my spud with butter and sour cream, I opted for a creamy tahini-mustard sauce that came together in minutes.
Ingredients
Serves 1
1 Japanese Yam
Fresh veggies (cucumbers, carrots, radishes, etc.)
Spring onion and broccoli sprouts for garnish
Sauce:
2 tsp of grainy dijon mustard
2 tbsp of tahini
1 tsp of maple syrup
Generous sprinkling of sea salt
Prick your yam with a fork a few times and bake at 400F for 1 hour. While the yam is cooking, mix your sauce together by combining all ingredients in a bowl and slowly add in warm water until you have reached your desired "saucy consistency." Set sauce aside. When the yam has finished cooking, slice in half and drizzle on your tahini-mustard sauce. Garnish with spring onions and sprouts.