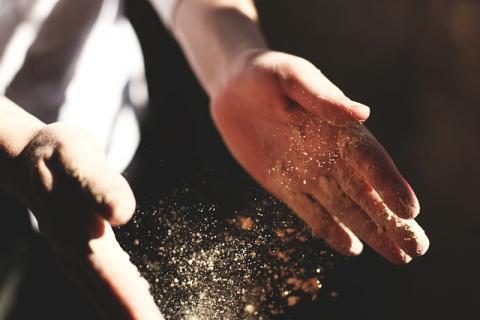 Life on the French Riviera is not only gorgeous, but also quite delicious. My partner and I live in Nice, which is just a short (beautiful!) drive from Italy. A metropolitan hub with an airport on the Mediterranean Sea, Nice has always been a natural melting pot for a diversity of cultures. As a result, it is difficult to find traditional French dishes when one goes out in Nice for a bite to eat. One such dish, originating from Genoa, Italy, is what the Niçoise call "socca." This savory chickpea flour pancake – locals are specific that it is not a crêpe – goes by many other names: fainâ in the Genoese dialect, farinata in standard Italian, torta de ceci in Tuscany, and fainè in Sardinia.
Before I discovered how delightful socca is, you could find me drooling over buttery croissants or smooth chocolate fondants. Now, and especially as we move towards cooler weather, one might find me waiting in line for a piping hot plate full of socca, enjoying the chewy and charred finger food with cracked pepper, and not feeling an ounce of guilt afterwards. This is because socca is gluten free and also contains (per the recipe below) about 10 grams of fiber, 20 grams of protein, high amounts of folate, a dose of the antioxidant selenium, and iron. Bon appetite!
Socca, or Savory Chickpea Flour Pancake  
Serves 2     
Prep time: 15 minutes, plus 30 min. rest 
Cook time: 15 minutes
1 cup chickpea flour (also know as garbanzo bean flour, gram flour or besan)
½ tsp. salt
Up to 1 cup lukewarm water
2 tbsp. olive oil for batter, plus 1 tbsp. for the skillet
Fresh cracked black pepper, for serving
Mix together the chickpea flour and salt, followed by ½ cup water and 2 tbsp. olive oil. Whisk this together, adding more water as needed until the mixture is the consistency of a heavy cream.
Let the batter sit, covered, for at least 30 minutes.
As the batter rests, heat an empty 9-inch cast iron skillet in an oven set to 450°F. After about 10 minutes, remove the skillet, add the 1 tbsp. of olive oil to the hot pan, and pour the batter onto the pan. Bake for 12-15 minutes, or until the pancake is firm with crusty edges.
Reset the oven to the broil setting in order to brown the top of the pancake for a couple of minutes.
Remove the skillet from the oven, slice into wedges, and serve hot with fresh cracked pepper and more salt, if you like.
ENJOY!
(Side note: The French would insist that a glass of rosé in the summer or hot, spiced red wine in the winter best complements a dish of socca.)