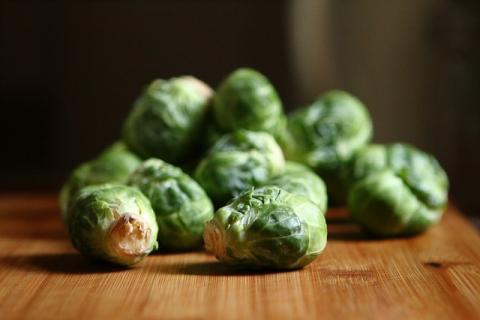 One of my favorite things about fall is buying Brussels sprouts on a stalk. The first time I saw the giant stalk, I couldn't wait to get home and experiment with recipes. After trying different soups, salads, and roasted pairings, this is one recipe that has become a staple in my home.
These Brussels sprouts are comforting, filling, and satisfying when you want great taste with little effort. The hardest part is probably waiting for the tiny little cabbage-like sprouts to finish roasting in the oven. Once they're done, though, just plop that egg on top, maybe add a little hot sauce, and dinner is served.
Time: 35 minutes
Servings: 2
Ingredients:
1 pound Brussels sprouts
1 tbsp. olive oil
2 eggs
3 cloves garlic, minced
lemon
1 tsp. paprika
pinch salt
cracked pepper
hot sauce (optional)
Directions:
Preheat oven to 375 degrees Fahrenheit. Cut off the bottoms of the Brussels sprouts and discard. Slice sprouts in half and place in a bowl. Toss with olive oil until thoroughly coated. Add garlic, paprika, salt, and pepper, and then toss.
Line a baking sheet with parchment paper and spread out the Brussels sprouts cut side down. The parchment will help the sprouts from sticking to the pan. Next, roast them in the oven for 30 minutes or until slightly browned, flipping halfway through.
Meanwhile, begin to prepare the poached egg by boiling water in a saucepan. Heat roughly 3 inches of water on medium-low heat. Crack the eggs into separate bowls. Swirl the water with a spoon, then slide in the eggs one at a time. Cook for 3-4 minutes each.
Divide Brussels sprouts into two bowls and squeeze lemon on top. Top each bowl with a poached egg. Add hot sauce for an extra kick. Serve warm.