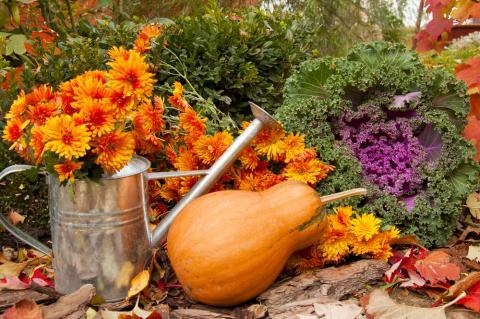 Fall always comes faster than expected. In the garden, however, produce is at its peak with fresh berries, sweet corn, crunchy cucumbers, and juicy stone fruit sun ripe and ready to eat. 
Despite the summer bounty still available, it's time to start preparing your garden for fall. Kale, broccoli, cauliflower, cabbage, and many other vegetables are well-suited to cooler temperatures and are less likely to bolt or suffer damage from heat. Insects are less of a nuisance and more moisture allows for better drained soil and happier plants. 
1. Prepare Your Garden
Depending on your climate and where your plants are in the growing season, aim to start preparing your fall garden in early August. Plants that are sown later may not be able to withstand late fall or early winter temperatures.
Before sowing seeds, however, take advantage of sunny days to get back in the garden. If you've neglected weeding, now's the time to pull out invasive plants that have snuck in. Do you have a separate garden bed for fall plants? If not, be careful not to damage any summer plants that are still growing. Those that are no longer producing fruit should be cleaned up or removed to reduce the potential for rot. 
Consider adding fertilizer or a layer of compost to boost the nutrients in your soil. A thin layer of slow-release fertilizer will boost your soil after a spring and summer of production. While some fertilizers can be added every four weeks, avoid fertilizing after the first frost as this can have detrimental, and sometimes deadly, effects on your plants. 
2. Plan Your Garden
Planning our gardens encourages us to map out the "what, where, when and how of our garden," as this article explains. 
Understanding your growing climate will be important in deciding what plants you hope to grow. Other aspects to consider include growing space, sunlight exposure, companion planting, and the health of your soil. 
Consider adding a cold frame before planting takes places. A cover to protect young plants from cold or frost can be the difference between enjoying the fruits of your harvest and watching your plants struggle just to survive. 
3. Sow Your Seeds
Fall seeds can be sown like spring seeds: indoors or planted directly in the soil. Since the benefit of summer's warmer temperatures are on your side, sowing the seeds outdoors is generally a fine option. If you're short on time or too busy enjoying summer activities with family and friends, don't feel bad about buying seedlings from your local nursery. 
What To Plant In Your Fall Garden
Deciding what to plant is the most rewarding part of gardening—following, of course, tasting the first bite of your kale salad or roasted Brussels sprouts recipe. Here are a few fall plant ideas…
Beets
Many roots vegetables are well-suited to the brisker days of autumn when cravings for carrots, squash, and beets kick in. Beets are grown throughout spring and summer but can typically be extended through the fall, too. Warm weather can cause bolting, so cooler days keep the plant focused on the object of our desire: the sweet, earthy vegetable we love in borschts, salads, and juices alike.  (And don't forget you can add beets to gazpacho, hummus, or lentils!)
Kale
Kale is a hardy vegetable that often survives frosts—and may be sweeter for it. Seeds can be sown directly into the soil since both warm and cool soil temperatures will allow for germination. Of course kale is great for salads, but you can also add it to smoothies, quinoa, stews, and frittatas, or make kale chips!
Arugula
Arugula can be tricky to grow in the summer when even a few days of summer heat can destroy a crop. Cooler fall days allow for the plants to stay bitter but edible and keep the plants from immediately bolting.  Arugula can add a spicy kick to salads, breakfast hash, buddha bowls, and sandwiches.
If your growing season extends into fall, that's great—but make sure to choose quick-growing vegetables, like radishes or carrots.