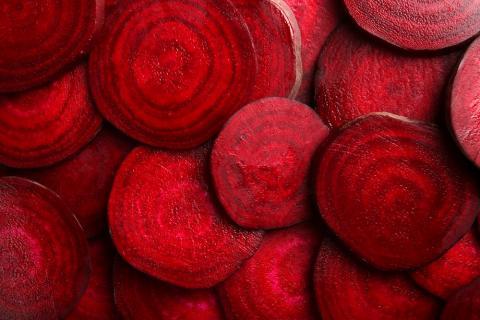 Lentils with Roasted Beets and Tomato
Beets! This dish would not be complete without them. While they may not have the following they deserve, these vibrantly pigmented root vegetables are nutritious and delicious if you give them a chance. Ranging from gold to red, beets' bright color can rub off on you while handling. I'm sure you probably don't want everything dyed a nice shade of beet, but this is actually what makes them so healthy. Known as betalains, the pigment is bursting with nutrients. It contains antioxidant, anti-inflammatory, and detoxifying properties that purify the liver and blood. Vitamin C, magnesium, folate, iron, copper, and phosphorous are also packed inside these roots. The greens are edible as well. How's that for deserving a fan base?
Earthy lentils, juicy roasted beets, and slightly acidic cherry tomatoes meld together in this summer recipe. And if you're wondering about beet season, it's now. While most root vegetables may make you think of cold weather, beets are an exception to the rule. They are at their peak from summer to fall. The use of cherry tomatoes is an additional treat as they are particularly good this time of year. And the lentils, well, anytime is a good time for dried legumes.
Did I also mention all the ingredients are vegan and gluten-free?
Time: 1 hour 20 minutes
Servings: 2 main / 4 sides
Ingredients
¾ cup brown or green lentils
4 red beets
2 cups cherry tomatoes
1/2 red onion
1 ½ tbsp. red wine vinegar
Olive oil
Salt
Directions
Preheat the oven to 375 degrees Fahrenheit. Cut the greens off the beetroot. Rub the beet with olive oil and wrap each beet individually in foil. Roast in the oven for one hour. Set aside to cool. Peel once cooled.
Meanwhile, rinse the lentils. Fill a small to medium sized pot with 1 1/4 cups water. Add lentils and salt, then bring to a boil. Once boiling, place lid on top then reduce heat to low. Simmer for 20 minutes or until liquid is absorbed. Let cool. Place in a medium sized bowl.
Slice cherry tomatoes in half and chop the beets. Mix the tomatoes and beets in with the lentils. Season with salt and mix in red wine vinegar. Serve at room temperature.