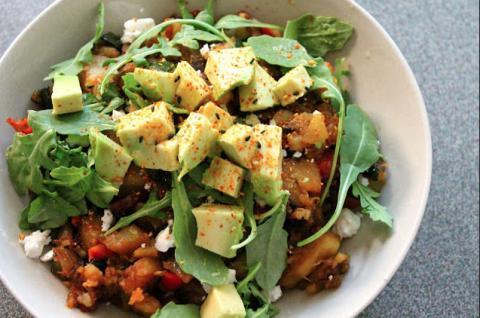 What's better than a hot breakfast? Even though I usually reach for fruit in the morning, I've gotten in the habit of considering the veggie route for my morning fuel. Veggies provide a slower energy release than fruit, which, depending on your morning activities could be a good or bad thing. If you know you're going to have a more relaxing morning, veggies are perfect for that slow burn. A veggie-fied breakfast is also good for those looking to reduce their intake of sugar. A diet high in vegetables can train your metabolism to crave less sweet and more nutrient dense foods. 
When I went grocery shopping the other day I decided to buy less fruit and stock up on more veggies. I centered in on red peppers, zucchini, potatoes, onions and avocado. It turns out that these can all be cut up really small and are perfect to go in a hash!
Instead of an egg I used a sliced avocado which provides all of those good fats and makes this dish a little more filling. Making a hash involved more than just throwing a bunch of veggies in a pan with potatoes and hoping for the best. There was a process to obtain a perfectly crispy-edged hash. It is explained in the recipe below:
Recipe: Vegan Avocado Breakfast Hash
Makes 2 large servings
4 medium white potatoes, peeled and diced
1 red pepper, diced
1 cooking onion, diced
1 zucchini, diced
2 tbsp olive oil, 2 tbsp coconut oil (or other heat proof oil)
Salt and pepper (don't skimp!)
1 tbsp balsamic vinegar
Top with:
Avocado and arugula
Boil potatoes for 5 minutes or until almost tender. Alternatively microwave potatoes on high for 1 minute. Heat skillet, and then add 1 tbsp olive oil and 1 tbsp coconut oil. Add onion, cook 1-2 minutes, and then add red pepper and potatoes (don't rinse potatoes). Add salt, to taste. Add zucchini and cook until tender. Mash hash with backside of spoon (you may skip this step if potatoes are already really soft). Once hash is tender, add balsamic vinegar and cook for another minute. Serve topped with avocado, arugula and feta cheese.
Photo Credit: "hash3" by Jaclyn Enchin is licensed under CC BY 2.0