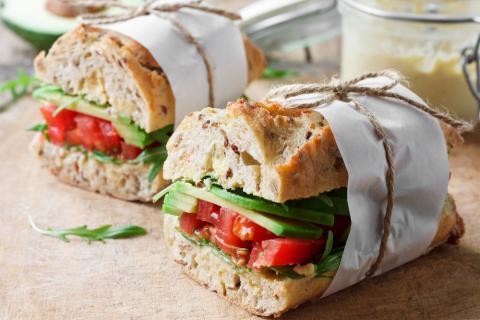 This sandwich is a staple that is so easy to make and perfect to cool off with in the middle of a hot day. The hummus adds a bit of protein and creaminess to complement the crisp and cool veggies, while also giving you an opportunity to experiment with different flavors. Try using spinach- or garlic-flavored hummus to ramp up the antioxidants, or a spicy red pepper hummus for a flavorful kick. (Or try beet ginger hummus for extra zing!)
Hummus & Veggie Sandwich (Vegan)
serves 1
Ingredients
2 Tablespoons hummus (any flavor)
1/4 cup sprouts
4 small cucumber slices
2 large tomato slices
3 large avocado slices
2 pieces whole-grain sandwich bread
Directions
Start by spreading 1 tablespoon of hummus on each piece of bread.
Add the sprouts on top of the hummus, followed by tomato, cucumber, and avocado.
Place the other piece of bread (covered in hummus) on top of the avocado to ensure it all stays in place.
Now cut in half and enjoy!