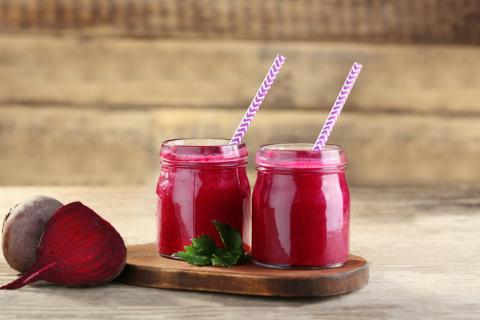 Winter juices aren't necessarily much different from spring, summer, or even fall juices. But the vegetables and fruits you add to them can make them better geared for winter, even if you're juicing oranges and drinking them with ice. Across the Northern Hemisphere, most of the countries that experience temperate climates see a rise in respiratory illnesses during the winter. An article published by Scientific American explains that respiratory illness like the cold and flu affect at least 10% of the population in a given year; sometimes, this number will rise to 30%. However, while many scientists theorize on why colds and flus tend to be more prevalent in the winter, the research to support any one idea isn't yet there. Some suggest more contact with people thanks to spending more time indoors and away from the cold; others believe that the lack of sunlight represses our immune system; still some point out that the flu travels faster in colder weather, increasing our chances of ending up with a fever and sick in bed. All of these explanations are likely true, but there's little most of us can do about spending time with people if we work in an office, take public transportation, or go out to eat. Rather than feel down about what we can't control—beyond washing our hands (with triclosan-free soap)—it's worth trying to support your body's immune system. One way is with a higher consumption of fresh fruits and vegetables, and the easiest way to do that? Juicing.
Most juice recipes will supply the body with a rush of nutrients, but focusing on immune-boosting vitamins, like vitamin C, and powerful immune-supporting spices, like ginger and garlic, can turn a regular juice into a winter juice (with the same fresh, zesty, taste.) Not sure where to begin? Try these recipes for your new favorite juice recipe, cold-busting guaranteed.
1. The Bright Orange
My favorite juice recipes include turmeric—that bright orange spice with a powerful, slightly bitter, kick and a propensity for healing all things joint-related. By itself, turmeric is very strong, so pairing it with a sweet citrus, like the winter-ready blood orange, and spicy ginger can make the juice far more than just palatable. This recipe kicks the more common jamu juice up a few notches while still retaining the same benefits, including rich vitamin C from bright red blood oranges and lemons, a load of vitamin A from carrots, and the thermogenic (or heat-inducing) properties of ginger.
1 inch turmeric root
1/2-inch ginger root
1 blood orange
1 carrot
1 lemon
Juice all ingredients then enjoy immediately. If the taste is too strong, try stirring in a spoonful of raw honey or adding a splash of hydrating coconut water.
2. The Classic Green
This classic green juice is actually a twist on my favorite juice at the moment and is inspired by a small cafe called Electric Beet. Their Motivator drink contains antioxidant-rich ingredients like collard greens, romaine lettuce, apple, lemon, ginger, and coconut water to sweeten the drink up, but I like to add the smoothness of pear (bonus: the soluble fiber can help boost the immune system) and kale if I don't have collard greens on hand.
2-3 kale leaves
1/2 head romaine lettuce
1 apple
1 pear
1 inch ginger
1 lemon
1/2 cup coconut water
Juice first six ingredients then stir in coconut water to taste.
3. No Cough Kohlrabi
This recipe features kohlrabi, a member of the cabbage family. Similar to broccoli stalks, kohlrabi has a mild, pleasant taste that pairs well with pear and ginger. Add lemon to brighten the flavor and add vitamin C, and finally collard greens for a punch of vitamin K. Stave off the typical winter cough by enjoying this nutritious drink all season long.
1 cup kohlrabi
1 pear
1 inch ginger
1/2 lemon
2-3 collard green leaves
4. Beat the Blues with Beets
This beet-heavy recipe is pretty enough to turn even the gloomiest winter day bright. Citrus pairs well with the earthiness of beets while also offering vitamin C and a touch of sweetness. Cabbage (already a winter staple) is added to provide vitamin B6, vitamin K and, perhaps surprisingly, vitamin C. Finish the juice with a carrot and ginger to bring out the zing.
1-2 beets (try golden or chioggio for a fun twist)
1 blood orange 
1/4 head cabbage
1-2 carrots
1 inch ginger
5. The Flu Shot
Most juice stores will have a variety of the flu shot on their menu; this powerful (and potentially cringe-worthy) juice typically includes ginger, lemon juice, and cayenne pepper but this recipe uses garlic to boost immunity and turmeric for anti-inflammatory powers. Too strong? Sweeten with a bit of raw honey.
1 inch ginger
1 inch turmeric
1 clove garlic
1/2 lemon
Optional: raw (or manuka) honey to taste