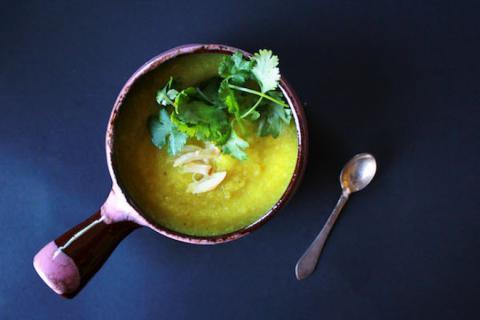 Now that the fall season is upon us, it's the perfect time for this vegan cauliflower, ginger, and turmeric soup. Nothing bolsters the body on chilly days quite like warm soup, but this cauliflower soup has some additional tricks up its sleeve: it's packed full of phytonutrients that will prepare your body for the impending winter; it's undeniably easy to make; and its distinctive gold color—courtesy of the turmeric—will brighten up any fall table. What more could you ask for?
Reasons to Love Cauliflower
Cauliflower is one of the most interesting vegetables, both a mathematical and culinary wonder. Romanesco, a showy, vibrant green variant of cauliflower, is an example of a natural fractal pattern in nature, but let's be real: most of us have come to cherish our cauli less as a golden spiral and more for what it can do on our plates. Long appreciated in many cultures, cauliflower was disparaged as boring in many parts of the west until recently. The perception of the insipid cauliflower changed as people discovered its remarkable versatility, consequently transforming it into everything from pizza crust to ice cream. Cauliflower is low in starch, but you can cook it so that it makes a satisfying starch replacement. When puréed, it transforms yet again, taking on a creamy mouthfeel (as in this soup recipe). In terms of flavor, cauliflower lends itself well to spices (think cumin, coriander, paprika, and chili powder), as well as unexpected partners, like unsweetened cocoa. But there's more to cauliflower than what it can become: in and of itself, it's one of the healthiest vegetables.
Cauliflower is a cool season crop that reminds us that nature knows what it's doing. It's one of the highest sources of vitamin C among natural foods: one cup contains roughly 77% of the recommended daily intake of the antioxidant, making it an ideal accompaniment to the iron-rich meat, poultry, and fish that are on the Ayurvedic menu during the fall and winter for non-vegetarians. In addition to aiding in iron absorption, vitamin C is also good for strengthening the immune system, which is particularly apt as we head into flu season. 
So now that you know a few things about the amazing cauliflower, let's talk about what to do once you bring one home. We've all seen those moldy cauliflowers in the produce section; in order to avoid this fate, remove yours from the cellophane wrap and loosely re-wrap it in fresh plastic before storing it in your refrigerator's crisper drawer. Wait to wash and cut until you're ready to use it.  Stored properly, cauliflower will last 2-5 days.
This cauliflower soup is so easy that it doesn't require much direction in terms of technique. My hope with it (and all of my recipes for that matter) is that you'll be wooed into the kitchen by nutritional benefits, get swept away by flavor, and make it again and again because it's so easy. This recipe will afford you more time to spend with your loved ones by requiring less of you in the kitchen. Contrary to what many people have told us, eating well is not about hard work and depravation; it's about enjoying yourself. Eating, from planning to preparation to tasting, should be about pleasure first and foremost. And it's no different with healthy eating. When you discover pleasure in any food, you'll naturally be drawn to it again and again. That's how you develop real, lasting health, and dare I say, happiness. With that, dear friends, I wish you a happy, unforgettable fall.
Cauliflower, Ginger & Turmeric Soup (Vegan, Gluten-Free, Whole 30 Friendly)
Serves: 6-8
Prep Time: 10 minutes
Cook Time: 20 minutes
Total Time:  30 minutes
Ingredients
2 tablespoons grass-fed ghee or virgin coconut oil
4 cups chopped leeks
2 tablespoons chopped ginger
1 teaspoon ground turmeric
1/4 teaspoon freshly ground black pepper
1 teaspoon Himalayan or sea salt
8 cups cauliflower florets (about 2 heads or 1 large one)
6 cups water or stock
fresh chopped cilantro/coriander (for serving, optional)
Directions
Heat ghee or coconut oil in a stockpot over medium heat. Add the chopped leeks and ginger. Cook until very soft but not browned.
Add turmeric, black pepper, and salt to the pot, stirring so that the vegetables are well coated with the spices and oil.
Add cauliflower florets and stir again.
Add water or stock and stir again. Raise the heat and stir occasionally until just boiling, then immediately lower the heat to a simmer. Cook until the cauliflower is tender, about 30 minutes. Allow the soup to cool slightly before blending.
Use either a blender stick or transfer the mixture to a blender or food processor to coarsely purée the soup. Taste and adjust the seasoning.
Plate, garnish with fresh chopped cilantro/coriander, if using, and serve.
Notes
Try adding steamed or sautéed greens to the soup if you have them on hand.
For non-vegans who want added protein, chopped hard-cooked egg is a nice accompaniment.
I used roasted garlic as a garnish in the first photo above, which adds great flavor and immune building power.
This cauliflower soup is also delicious with fresh toasted bread.
Photos by Shiraz Leyva