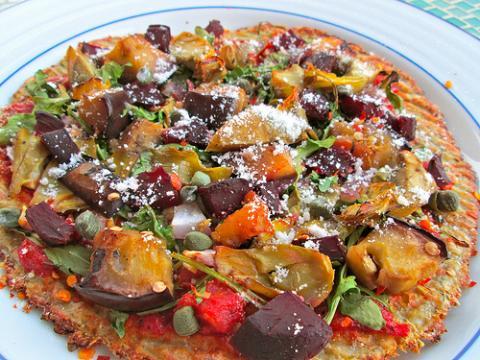 A great way to enjoy pizza without the guilt! Swap out traditional crust ingredients for cauliflower and coconut flour to make a delicious gluten-free/grain-free pizza. Seriously, this tastes amazing, try it!
Cauliflower Crust Pizza
Makes 1 serving
For the Crust:
• 1 cup cauliflower florets
• 1 egg (use flax egg to make vegan)
• 1/4 cup coconut flour
• 1 tsp fresh rosemary
• 1/2 tsp fresh thyme
• 1/4 tsp dried oregano
• Freshly ground pepper, to taste
My Toppings:
• Red onion
• Garlic
• Tomato Sauce
• Arugula
• Artichoke hearts
• Red Beets
• Or whatever you like
Directions:
Pre-heat oven to 425 degrees.
1. Place raw cauliflower florets in a food processor or blender a handful at a time. Blend until it is "riced" (in very small rice-like pieces).
2. In a small bowl, combine cauliflower, coconut flour, egg, and spices.
3. Cut 2 circles of parchment paper the size of a 10 inch pizza stone or baking sheet. Press your "dough" onto one sheet of parchment, spreading to create a thin crust (1/8-1/4 inch thick). Place other sheet of parchment paper on top of crust and bake for 20 minutes.
4. Meanwhile, saute onions and garlic with a bit of coconut oil until fragrant. Chop other toppings to desired size.
5. When crust is done (should have turn slightly golden and firmed up), remove from oven and flip over so that the bottom is now to top. Remove the top sheet of parchment.
6. Top crust with tomato sauce (or pesto, or oil… whatever you prefer) and toppings. Return to oven and bake for 15 more mins.
7. Remove from oven and sprinkle with your favorite additions. I used Nutritional yeast and red pepper flakes.
Note: If crust doesn't seem done after the first 20 mins, remove top sheet and bake ~5 mins more before adding topping.
*Make a larger batch and freeze extra crusts after cooking for quick meals in the future, just remove from freezer, add toppings, and bake 15 min*