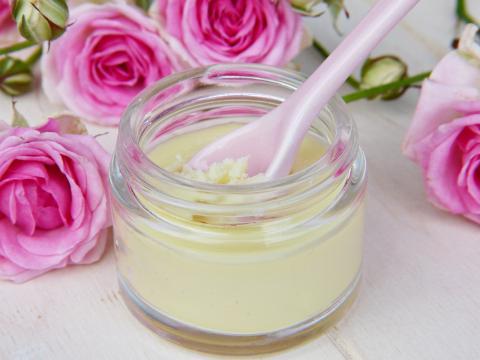 Scrubbing your skin is part and parcel of a good and basic skincare routine. But do we really need those store-bought tubes to do a job that homemade ingredients do just as well, if not better?
Why do we need to scrub our skin? The same logic with which we scrub a dirty piece of clothing, or tiles, or even the floor applies here too. Dirt, pollution, and even micro-particles of makeup often get trapped in the pores of the skin, and while a good face wash or makeup remover can take off almost 95-99% of the caked-up stuff, sometimes that 1% remains and causes dullness and even breakouts. Plus, our skin cells die and sometimes the dead ones too clog the top layer of the skin—again making us look older than what we are, and definitely duller. So yes, we need to scrub the skin, and not just the skin on the face but the whole body, once or twice a week. Scrubbing exfoliates the skin, makes it smoother and keeps it free of clogging, thus making the appearance of the skin brighter and more youthful. Plus, a good scrub also increases blood circulation under all the layers of the skin—keeping the skin in optimum health.
Now that we've established scrubs are good, why should we avoid store-bought ones? Well, where do we begin? Most if not all brands use plenty of chemicals and preservatives that increase the shelf-life of the product but do the skin and the environment no favors. A lot of these scrubs use harsh abrasives like ground walnut shells or peach pits that can actually end up scratching the skin instead. Some even use micro-plastic beads that are basically killing our oceans and might just ultimately wipe out life as we know it in the long run. Doubt we need more reasons to shift to safer, non-abrasive, and environmentally-friendly concoctions we can whip up at home with minimal fuss!
Coffee-Based Skin Scrubs
Coffee grounds are good for the skin, mainly because they are a decent but not too harsh abrasive agent, can help target cellulite with prolonged use, and even flush out water from skin that's puffy and retaining too much water. And making a good coffee scrub is as easy as drinking a cuppa—because then you can use those softened coffee grounds to make awesomely-scented scrubs. Here go some ideas:
For sensitive skin: Extract the pulp of an aloe vera leaf by slicing it open and squeezing out the gel from inside. Puree the gel to make it smooth. Now take as much as you need (like a cup full) and drop in 2 teaspoons coffee grounds. Mix it with the spoon to get a gel-based scrub ideal for sensitive skin of any kind. The aloe vera gel soothes any eruptions and also moisturizes the skin.
For dry skin: Dry skin needs some extra moisture and to make a good moisturizing scrub, take a half cup each of coconut oil or olive oil and fresh milk cream. (Vegans can choose soy cream instead.) Add in 2 teaspoons coffee grounds and mix it well with a spoon. Scrub away in your bathroom for skin that is visibly brighter, smoother, and softer.
For oily skin: You can make an excellent oily skin scrub that not only exfoliates the skin but also soaks in some of that extra oil as well. Make a paste with 3 tablespoons gram flour or powdered oats with rosewater. Add in 2 teaspoons fat-free yogurt and 2 teaspoons coffee grounds. Mix well and give your oily skin a matte feel with this great-for skin scrub…
Fruit-Based Skin Scrubs
Fruits like mangoes, papayas, and strawberries are rich in alpha-hydroxy acids, which exfoliate the skin on a cellular level. Using pureed or mashed fruits like these as a base means you give your dull skin a boost of extra youth! Here are some ideas:
For normal skin: Mash 3-4 strawberries with some fat-free yogurt to form a smooth paste. Add in 1 teaspoon granulated sugar but do not mix it anymore lest the sugar dissolves—and give your skin a good scrub with it.
For mature skin: Mash the pulp of a mango (or a banana) with 2 teaspoons honey and 2 teaspoons milk or soy cream. Once the paste is formed, add in 2-3 teaspoons oats to the mixture and scrub your skin with this goopy paste for it to shine from within.
For rough and dry skin: Mash 1 cup papaya into a paste and add in 2 tablespoons milk or soy cream. Mix well and add 2 teaspoons sea salt to the paste; stir once to spread but not dissolve the salt. Now give your dry skin a boost with the goodness of salt, AHAs, and lactic acid…
Skin Scrubs With Essential Oils For Problem Skin
If your skin needs some extra TLC, then we have got just the right homemade scrubs for you. These scrubs will help you in targeting and eliminating your skin problems and do you and your skin a host of good! What you need to make an essential oil scrub are basically three ingredients: a half cup sugar, a half cup coconut oil, plus the 10-15 drops of the essential oil you prefer or need for your skin problems…
Myrrh Essential Oil: Myrrh works very well in nourishing dry, mature, and damaged skin. Myrrh can also target sunburn or chapped skin, and even eczema.
Tea Tree Essential Oil: Plagued with acne? You can use this scrub safely; the coconut oil will not add any oiliness to your skin, especially if you shower off with a non-moisturizing soap afterward. But if the oil still sounds like a problem to you, then replace it with fat-free yogurt instead.
Carrot Seed Essential Oil: This oil speeds up cell rejuvenation so is great for mature skin or skin showing the first signs of aging. It also helps reduce any inflammation so is great for sensitive skin as well.
Frankincense Essential Oil: This works well for any skin type—it regulates sebum production so is good for oily skin but also helps in cell rejuvenation so works well for dry and mature skin as well. Plus, it can also help reduce the appearance of scars.
Simple, non-fussy and really good for the skin. All that we need for beautiful skin is mostly right at home, in the kitchen, in the garden, or in your essential oil cabinet. Do give these a try and we'd be happy to have your feedback in the comments section below. Stay beautiful, stay healthy!