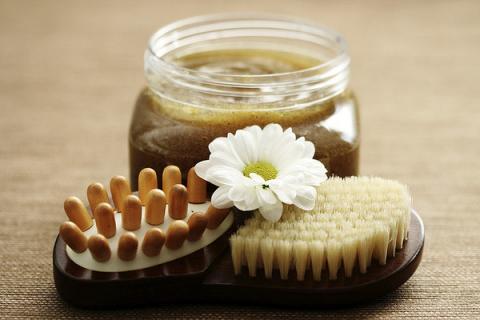 Let's delve into an age-old beauty practice that has its roots in Ayurveda…
An age-old Indian tradition practiced at most Indian weddings is the haldi (turmeric) ceremony of the bride-to-be, and sometimes even of the groom-to-be. Now while it is called the turmeric ceremony and there is a bit of turmeric that goes into the ubtan (paste) used to exfoliate, massage and then bathe the bride-to-be, the main ingredient of this ubtan is besan. What is besan? Nothing but chickpea or chana dal (Bengal Gram) flour.
You will find almost all Indian kitchens having besan – it is a healthy flour with less fat and more protein than wheat flours, and while it cannot really be used to make chapatis since it has less gluten, it is used to make a variety of Indian dishes such as dhokla, chilla and even a sweet, custard-like concoction called sheera, often used as a remedy for cough and colds.
But let's talk about besan for beauty here. Why is besan so darn good for the skin? Ayurveda has explanations, so let's list the ways in simple language:
Besan is coarser than wheat flour and far less stickier (less gluten). This makes it an ideal base paste for packs and scrubs like kaolin clay or even lanolin – it's non-sticky and easily washed off.
The coarseness of besan makes it an ideal scrub – it's not abrasive enough to scratch or harm the skin, but the slight roughness of it exfoliates dead skin cells in a harmless and effective way.
Besan is organic and free of synthetic chemicals, so it works great even for skins prone to allergies. Being natural it is also noncomedogenic in that it doesn't block pores – this makes it an effective remedy for sensitive skins.
Various amino acids and proteins that occur naturally in besan work towards gentle and effective skin tightening – making it ideal as an anti-ageing remedy.
Besan is very high in folic acid as well as manganese, which in turn are cell regenerators – so besan effectively sloughs off dead skin cells and helps the skin make newer, younger cells to give a youthful appearance from the outside too.
Now that we've extolled the virtues of besan, let's see how you can incorporate it into your DIY beauty routine.
A Natural Face Mask
Woke up to a dull visage? A poor lifestyle, restless sleep, too much partying or even hormones can do that to you sometimes – making you face a face (pun intended) that is blotchy, dull and just scream-worthy! The thing with over-the-counter face masks is that they are full of synthetic chemicals. Why not try something more natural? An easy to whip up concoction, a besan face mask is sure to take that dullness off and make your skin smoother, softer and more radiant.
To make it you need:
2 tbsp. besan (gram or chickpea flour)
A pinch of turmeric powder (haldi)
2-3 tbsp. milk (for oily to normal skin) or cream (for dry skin)
A drop or two of virgin olive oil
Mix everything in your trusty blender till it's smooth and pasty, with the consistency of mayo. Any thicker and it will dry off too soon, any thinner and it'll drip off. Add more besan to thicken or more milk/cream to thin down if needed.
Now lock yourself into the bathroom with this concoction (unless you want to scare the kid, partner or dog) and apply this goop all over your face, neck and décolletage. Read, sing or just wait it out for at least 10 minutes. Wet the dry and caked-up mask with a little lukewarm water and then gently scrub it off for a visibly brighter skin.
A Floury Body Scrub
Is your skin crying out for some TLC? And no time (or money) for the salon? A simple and rather effective full body scrub that will take away the roughness and make the skin softer and more moisturized is to make a besan-based scrub – from the kitchen to your bathroom.
What you need:
1½ cups of besan (gram flour)
½ tsp. turmeric powder (haldi)
Enough milk (for oily to normal skin) or cream (for dry skin) to make a thick paste
1 tbsp of granulated sugar or coffee grounds
2-3 drops lavender or rose essential oil
Mix this all up by hand (don't use the blender lest it dissolve the sugar). Traditionally called an ubtan, this is to be used after you soap off (and shave). Pat yourself dry and then start applying this goop generously all over, rubbing, scrubbing and massaging as you go. The besan will exfoliate while the sugar or coffee will take care of any rough or bumpy patches. The turmeric will aid in treating any skin infections or problems while the milk will provide natural moisture and nourishment to the skin.. The essential oil is added to give a pleasing fragrance. Once you are goopy enough to your liking, shower off without soap and then carry on with your normal routine.
So that's my take on the Indian besan ubtan, do send in your thoughts in the comments section below… 
Photo Credit: "Body Scrub" by Lazada Prod. is licensed under CC BY 2.0