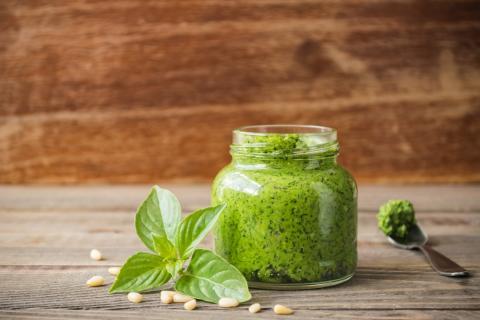 Genovese readers, please look away.
I'm about to do unspeakable things to your beloved pesto.
I know some traditionalists insist that true pesto contains nothing more than basil, extra virgin olive oil, pine nuts, garlic, salt, pecorino cheese, and real Parmesan cheese—so maybe we need another name for similar sauces that think outside the pesto box.  I'm all-ears if you have ideas—but in the meantime, this recipe is too good not to share due to something as subjective as semantics.
The truth is, you can use this as a blueprint recipe for endless variations.  If you ignore the haters, you can make a "pesto" out of almost any combination of the following:
olive oil
nuts of some kind
greens of some kind
a hard, salty, aged cheese like parmesan or pecorino
lemon juice (optional)
salt & pepper
This is a great way to use up greens—especially tops or other parts you might normally discard—and you can even mix and match.  If your greens are a tough, wintery green like kale, you might need to quickly blanch them in salted water before processing.  Be warned: you will be able to taste the greens in the pesto, and they won't all have the sweetness of basil pesto.  But I've found that fresh greens—even strong winter ones—lend this recipe a brightness that brings a sense of springtime into a winter kitchen.  And don't feel obligated to cash in your retirement fund to buy pine nuts for this recipe—really, almost any nuts will work fine.  You can also try toasting the nuts and letting them cool before adding to the processor.   The great thing about pesto is that it's largely personal preference, so the ratios and specific ingredients are totally up to you—experiment, and taste as you go.  (Vegan friends: use this vegan pesto recipe to adapt the below—specifically, try subbing in nutritional yeast for the Parmesan.)
Pea Shoot Pesto
You'll need a food processor or high-speed blender for this recipe. Use this like you would use any pesto—on sandwiches, pizzas, crostini, veggies, omelets, salmon, pasta salads—or keep it traditional and turn it into a 15-minute pasta entrée fit for a dinner party (recipe below).
Ingredients
1/4 pound fresh pea shoots—stems and all, roughly chopped
1 small garlic clove or 1/2 large clove
1 green onion, roughly chopped
1/4 cup pine nuts (can sub walnuts or slivered almonds)
1/3 cup olive oil
1/4 cup grated Parmesan cheese
salt & pepper, to taste
Directions
Roughly chop the pea shoots, garlic, and green onion—just enough to make them fit in the food processor.  (I was skeptical of using the rather thick stems of the pea shoots, but I only cut off the most woody part—maybe a half-inch or an inch, if that—on each shoot…and I didn't notice any woody bits in the finished pesto.)
Add the chopped shoots, garlic, and onion to the food processor, along with the pine nuts.  Process until everything is finely chopped.   Add salt and pepper to taste.
Slowly drizzle in the olive oil while pulsing or slowly processing the pesto.
Remove pesto from the food processor, and use a spoon (or your hands) to stir in the cheese.  Add more salt and pepper, if needed.
Garnish with lemon juice, olive oil, pea shoots, and/or Parmesan cheese, if desired. 
Pea Shoot Pesto Pasta
Serve this with crusty bread and a fresh salad (like caprese) for an impressive feast. You can also serve leftovers cold as a pasta salad.
Ingredients
1 serving of Pea Shoot Pesto (see above)
12 ounces of orecchiette pasta
2 Tablespoons butter
Directions
Make the pasta according to the directions.  Reserve at least 1/2 cup of the pasta water.
Melt the butter in a sauté pan over medium heat.  Carefully stir in the pasta and as much pesto as desired. 
Slowly add in some of the pasta water, a couple tablespoons at a time, thinning the pesto until desired consistency is achieved and pasta is coated with pesto.
Add in green peas, snow peas, snap peas, or lightly blanched green beans to get even more green into this dish.
Garnish with lemon juice, olive oil, pea shoots, and/or Parmesan cheese, if desired.  Serve with a side salad and crusty bread for an easy meal.