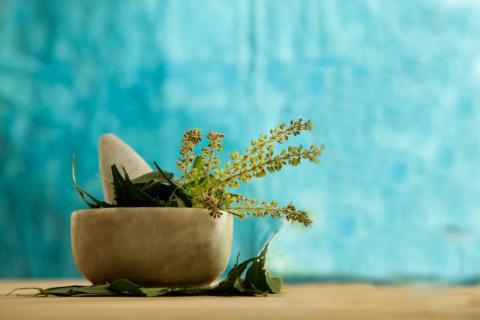 Many people are familiar with growing chives, parsley, cilantro, and mint, but tea herbs can open up the world of gardening. This past year, I've pushed myself to go beyond the typical varieties and try growing my own herbal tea garden. The results? A delicious (and economical) way to increase my consumption of tea and reap the benefits that herbs can offer.
Tea herbs can be grown in gardenbeds and in containers, though I find that mint varieties do best when contained since they are hardy, fast-spreading plants. While many herbs need full sun to thrive, others will wither, so be sure to plant accordingly. 
1. Tulsi
Tulsi is perhaps more commonly known as holy basil and has gained traction in North America in recent years. That said, tulsi has been enjoyed in Ayurvedic communities, especially in India, for hundreds of years. As an adaptogenic herb, tulsi helps de-stress the body and reduce inflammation. A 2017 review looked at several studies, concluding that tulsi has the ability to help with the "psychological, physiological, immunological, and metabolic stresses of modern living."
As an herb, tulsi is fairly easy to grow, requiring full sun and well-drained soil. Tulsi does best in a warm environment; for this reason, sow seeds once temperatures are above 70°F.
Tulsi has a pleasant, earthy taste and can be enjoyed hot or cold. 
2. Lemongrass
Lemongrass is common as an herb in Asian dishes, lending a sweet, lemon-flavored aroma to many dishes. As a tea it can be equally refreshing by itself or in combination with other floral herbs. 
Lemongrass is hardy, and like many herbs on this list, does best with full sun and well-drained soil that is kept moist. While the herb can tolerate mild conditions, it is best to overwinter your lemongrass during the colder months by cutting the stems down and placing the plant next to a bright window. 
While lemongrass is typically grown from seed, you can also grow your own plant from a stalk you purchase at the grocery store. Once at home, trim the ends of the stalk and place in water until roots have formed, usually within several days to weeks. Once the roots are thick enough, transplant to a pot or directly into the garden. 
Lemongrass can be enjoyed as a hot tea, though it's hard to beat cold lemongrass tea sweetened with a raw honey on a hot summer afternoon.
3.  Fennel
Fennel isn't often available as a tea, but I love its subtly sweet taste. As a vegetable, the plant produces an anise-flavored white bulb that is delicious both raw and cooked; as a tea herb, you'll enjoy its tiny yellow seeds. 
Fennel grows slowly, so you'll want to sow indoors early in the season, then transplant outdoors once the weather has warmed. Fennel is ready to harvest for tea when clusters of yellow seeds appear. Clip and dry these seeds, then steep for a deliciously soothing tea. 
Fennel is a terrific digestive and pairs well with licorice root for a sweet after-dinner drink. 
4. Hyssop
Hyssop is a lesser known perennial with pale green leaves and tall purple flowers. As an herb, hyssop is used in a variety of dishes, lending a minty taste. As a tea herb, hyssop offers numerous benefits, including respiratory health and improved digestion.
Sow hyssop seeds indoors then transplant after the last frost. Hyssop can tolerate full sun to partial shade. 
Once mature, harvest hyssop leaves. The tea is best served fresh but leaves can also be dried and saved for later. Uncut flowers can be enjoyed in a vase for their delicious fragrance!
5. Calendula
One of my favorite tea blends contains calendula and it's no surprise that it shines as the special ingredient for me: calendula. 
Calendula is a type of marigold flower, the same one that is best planted beside tomatoes to deter pests. Calendula flowers can be sprinkled onto salads and eaten raw, but I enjoy the bright organic flowers as a tea. The benefits of this herb are numerous: from stimulating lymph-node draining to regulating the menstrual cycle. 
Calendula can be started indoors early in the season or sown directly outdoors after the last frost. Calendula is a sun worshipper, and does best in full sun. Harvest the flowers, then dry them to make a peppery tea.