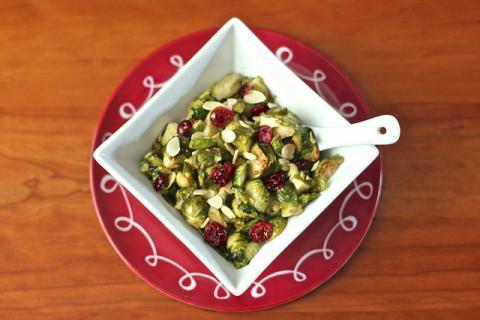 If you're anything like me, you're probably already planning out your menu for that upcoming traditional Thanksgiving feast. Since unforgivingly dry turkey will not be showing up on my dinner plate, I'm paying close attention to which seasonal fruits and veggies can steal the spotlight on the last Thursday of November. Put those boring old sides on the back burner; turn the tastiest produce November has to offer into unforgettable, out of this world dishes that will surely wow your entire family.
Artichokes: Forget turkey. Be thankful for artichokes because they can easily take on the role as star of your November 24th meal. Nothing beats a hearty, steamed artichoke with a drizzle of lemon, garlic vegan butter, and a sprinkle of vegan parmesan. Who doesn't heart artichoke hearts?
Beets: Do not be intimidated by beets like I once was. Those sliced, canned beets are nothing compared to sweet, savory roasted beets, because they are absolutely divine. Try flavoring them with onion and balsamic vinegar!
Brussels Sprouts: These green bundles that look like baby cabbages are another veggie that I wrongly assumed I didn't have a taste for. When cooked correctly, Brussels sprouts are amazing. You really can't go wrong with roasting them (I even adore them steamed) because the outer leaves become crispy. Yum, right? You can bet I'll be serving roasted Brussels sprouts with spicy soy chorizo (move over, bacon).
Carrots: My Irish roots have led me to my love for carrots (and cabbage and potatoes) because I've never spent a St. Patty's Day without them. The good news is that raw carrots with a great dip, roasted carrots, and steamed carrots with vegan butter (or even mashed like mashed potatoes) can all become part of November's holiday meal too. Why wait until March?
Cranberries: Toss out those unappetizing, congealed cans of cranberry sauce that hold the shape of the can. After making homemade cranberry sauce a few years back, I was sold on cranberries. All you really need is some organic sugar and orange juice to make an impressive tart, fruity sauce that'll complete your meal, and have your family members wondering what ever possessed them to eat that other stuff. 
Photo Credit: "Roasted Brussels Sprout Salad With Cranberries and Almonds 5" by Marie F. is licensed under CC BY 2.0