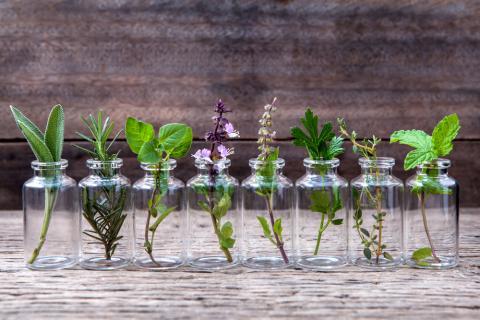 So you find yourself unable to sleep at night, and you've tried everything. What's next? How about aromatherapy! But what exactly is aromatherapy you may ask? Aromatherapy uses fragrant parts of aromatic plants to help revitalize and relax the body. Some benefits of aromatherapy can be, but are not limited to, revitalizing the body, reducing stress, and helping with relaxation and sleeplessness. Aromatherapy can be experienced in different ways: it can be done through fragrance, massage, or cosmetics.
The fragrance method can be achieved through having aerial diffusion of essential oils within your home, which provides a therapeutic benefit.
The massage method can be achieved through having essential oils massaged onto your skin, which provides a holistic healing of the body.
The cosmetic method can be achieved through the use of essential oils as cleansers, moisturizers, and other products to rejuvenate the body.
My Personal Experience With Aromatherapy
I decided to try out aromatherapy mainly because I was intrigued by the holistic approach to sleep that it offers.
I decided to try out the fragrance method and bought lavender essential oil, which can be used to help you relax and get a better night's sleep.
I bought an electronic diffuser, and started leaving it on for a couple of minutes every other night. My first reaction was that the scent wasn't too strong, which I liked. However, diffusers are very user-friendly and allow you to add as much or as little oil as you like in order to achieve your desired level of scent.
I also really liked that the lavender scent put me in a calm state of mind before I went to bed, which helped me get to sleep faster.
Another way I also enjoy using aromatherapy is by putting a little dab on my skin before I go to bed. I'll usually put just a tiny dab on my neck and on my wrist, just as I would with perfume, and that has the same effect on me as the diffuser.
I find that aromatherapy can become an essential part of someone's daily routine because it isn't demanding and it doesn't take too much time to carry out.
We live in a time and an age where we are constantly surrounded by distractions, and I mean that in the sense of having technological gadgets around us at all times, where relaxation becomes harder to obtain. In my case, I'm on my laptop for most of the day due to work; however, I also have my phone around constantly when I'm not working. I find that most of these technological gadgets distract me from having time to myself, time to just relax or meditate—even just to fall asleep. This is where aromatherapy fits in well in my schedule. I fit it into my nighttime routine so I can benefit from having a 5-10 minute relaxation break and thereafter be able to fall asleep faster. Aromatherapy can provide a similar sense of revitalization as other activities, such as yoga, but without the physical exertion.
I would recommend aromatherapy to anyone; it's a great way to relax your mind and feel revitalized. For me, it helps me find a time to meditate and relax, as well as to help me get a better night's sleep. So the next time you can't sleep, just remember: aromatherapy lavender essential oil might do the trick. Keep in mind that every essential oil has its own unique scent and some oils can help with healing as well.
Popular Essential Oils
Lavender: A classic scent; great for incorporating into nighttime routines. It will help you relax and sleep well.
Orange: Great for mornings, it will give you an energy boost.
Peppermint: Great before workouts, it will give you a boost of positivity.
Jasmine: Great for meditation, relaxes the mind and helps boost your self-confidence.
Lemon: Great for being infused into soaps & cleaners. It will keep you refreshed.
Thyme: Great for after-workouts; helps you decompress and calm down.
Lemongrass: Can be mixed with other complementary oils and helps awaken the senses.
Vanilla: Great for meditating and relaxing. It can help decrease stress.
Citrus: Great for mornings, can help you feel more awake.
Helichrysum: Can have an anti-inflammatory effect that may help lessen arthritis symptoms.
Ginger: Can help lessen joint pain through massage therapy; soothes pain away.
Eucalyptus: Soothing aroma that can help you recharge if you experience joint pain.