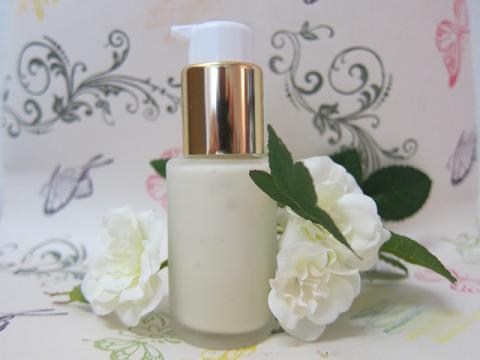 Everyone's face is different. But did you know that moisturizers and facial serums aren't just for dry skin types? Technically, everyone should be using moisturizers and facial serums. Why? Because they help give your skin extra hydration, elasticity, and glow. The only qualm I have with most of the moisturizers and facial serums out there is the list of ingredients and the price tags on them. Either they're too pricey, too iffy, or both! With these DIYs though, you'll be able to actually save some money and know exactly what's in your product. No iffiness here: Just plain, all-natural ingredients. And the best part about these recipes is that you can choose which you like best: I recommend the facial serum if you prefer oils to creams. If you want something richer, go for the moisturizer. Either way, your skin will thank you for the extra love! 
Super Easy Everyday Facial Serum 
I promise you this serum is super easy to make. Hence, I named it the "Super Easy Everyday Facial Serum." Oh, and you should use it every day. I recommend using it at least once a day, if not twice (morning and night). This will make your skin feel amazing and super moisturized! This serum is perfect for people who don't like the sometimes cakey feeling of traditional cream-based moisturizers. I also tend to use more serums in the summer and more cream-based moisturizers in the winter. But you can obviously use this during any season of your choice. Enjoy! 
Ingredients: 
2 tablespoons jojoba oil  
15 drops lavender essential oil  
1 tablespoon rosehip seed oil  
5 drops carrot seed essential oil 
5 drops frankincense essential oil  
2 – 3 drops geranium essential oil   
Note: If you do not like the scent of one of the essential oils recommended for this serum, feel free to swap it out with your favorite instead! Just make sure to double check via research if it's safe for contact with the skin – some essential oils can cause skin irritation! 
Directions: 
Just add all the ingredients to a small glass dropper bottle, screw on the lid, and shake it up. Done! See? Told you it was easy! 
Lavender Shea Butter Moisturizer 
This moisturizer is made with raw shea butter, a super nourishing ingredient guaranteed to make your skin more than happy. The lavender scent also makes it a perfect moisturizer to use before bed, as it will calm you down and relax you. I mean, who doesn't want to smell like a field of lavender? This moisturizer is perfect for those who suffer from flaky, slightly dry, or normal skin. You only need 4 ingredients for it too, so it's pretty easy! 
Ingredients: 
 4 tbsp of raw shea butter  
2 tbsp of organic coconut oil  
6 drops of lavender essential oil  
4 drops of geranium essential oil 
Directions: 
First, melt your shea butter and coconut oil. You can use a double boiler, or just microwave them in a heat resistant bowl. 
Once melted, allow to cool for about 5–7 minutes. Then, add in both the lavender and geranium essential oils. Stir well using a wooden spoon or spatula. When the mixture has a creamy-soft consistency, you can stop. Now you have a facial moisturizer! Enjoy and apply as generously as you like.