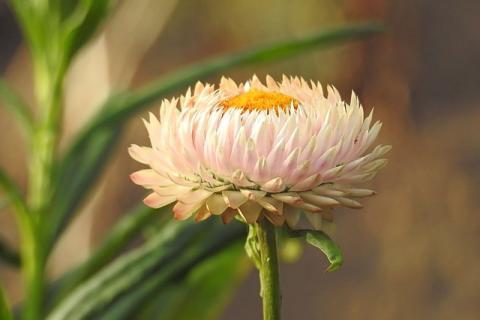 Helichrysum italicum is a flowering plant that's a member of the Asteraceae family and a relative to the daisy. Helichrysum is native to the Mediterranean and thrives in the dry, rocky, and sandy ground. One of the plant's nicknames is the Everlasting Flower due to its rejuvenating skin benefits, as well as the plant's ability to naturally improve your complexion.
Helichrysum essential oils, along with other forms of the plant – such as the herbal tea – have been used for thousands of years. In places like Spain, Italy, Portugal, and Turkey, Helichrysum is very well known and it's highly valued for the many healing benefits produced. Helichrysum contains antioxidant, antimicrobial, antifungal, antibacterial, and anti-inflammatory properties, just to name a few.
7 Healing Benefits of Helichrysum
Antiviral: Not only does Helichrysum essential oil provide antiviral properties but it also boosts the immune system. The flavonoids and phloroglucinols are the compounds found to be helpful and effective in fighting bad bacteria while improving the good bacteria necessary for a healthy gut.

Digestive Care: Helichrysum promotes healthy digestion! The oils stimulate the body's natural secretion of gastric juices in the stomach that are necessary to break down the food we consume. If your body isn't producing enough of the juices necessary, it becomes more difficult to break down food which in turn causes painful digestion issues. Helichrysum also acts as a mild diuretic which can help with mild bloating issues.

Tinnitus: When my tinnitus started a friend suggested using Helichrysum Essential Oil to help repair the damaged nerves and cells within the ear. The essential oil repairs and encourages healthy cell growth, and can also have the same effect on damaged nerves. Just rub a little oil around the outside of the ear and let it work its magic; it will take some time but it will help. DO NOT PUT INSIDE OF EAR!
Detox: This incredible oil is another to add to your cure-all list. Helichrysum is a way to help cleanse and purify the blood. Not only does it purify the blood but it also cleanses and stimulates the liver. The essential oil will help cleanse the body of toxins, heavy metals, bacteria, and pollutants floating around in the air.
Hemorrhoid Relief: The anti-inflammatory properties, as well as the blood-thinning properties of the Helichrysum essential oil, provide great relief to those dealing with hemorrhoids. Just add a few drops onto a cotton ball and apply to the area. Repeat this every few hours and it will ease the pain and inflammation.
Skin Infections: Helichrysum contains incredible antifungal and antibiotic properties, especially for the skin. The flavonoids and terpenes produced by the plant are responsible for all of the action when it comes to the skin. They're both really effective against fighting bacteria and fungal infections. Helichrysum should always be mixed with carrier oils before applying to the skin in cases of rashes and infections. Jojoba and coconut are great carrier oils and a lavender and Helichrysum combo will help ease poison ivy!
Sunburn Cream: The anti-inflammatory properties have a little bit to do with the relief provided by Helichrysum when it comes to sunburns. Mix a few drops of the essential oil with some coconut oil and you have a fantastic natural sunburn relief cream. It will also help rehydrate the skin in order to help it heal.
There are even more benefits of Helichrysum essential oil than the ones listed here – it can be used to treat so many different things. I will warn you that this essential oil is one of the more expensive ones out there, but it is so useful and amazing. There are several studies that provide some evidence that Helichrysum, as well as various other essential oils, can be used as an anticancer agent.
Helichrysum essential oils provide so many positive health and healing benefits for our body. As I mentioned earlier, it is a very anti-everything sort of plant. Helichrysum essential oil is another oil that can be used in homemade house cleaners to help keep germs away. You can use it on the doorknobs and in the shower and it's better than store-bought, chemical-laced disinfectants. I hope today's walk through Mother Earth's Medicine Cabinet finds you well! Happy Healing!