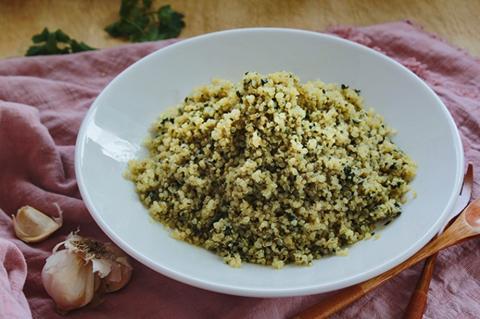 Looking for a healthy, stress-free meal? Over the last several years, the dog days of summer seem to have stretched farther into September. The prolonged heat, combined with the energy of people coming back from vacation and kids going back to school, makes a stress-free meal particularly enticing now. Today's recipe, quinoa with pesto, puts end of season basil to delicious use and still lets the gluten-free among us eat too. Plus, it all comes together in just 30 minutes.
Pesto, Let Us Count The Ways
Pesto is a quintessential summer sauce. It's made from seasonally abundant, inexpensive basil and doesn't require a stove; plus, it's versatile. It's delicious added to all sorts of foods, including bread, soup, eggs, vegetables, and even fish, but it's the classic combination of pasta with pesto that holds a special place in many hearts. Homemade pesto, traditionally comprised of basil, nuts, cheese, garlic, and olive oil, falls into the healthy, real food category, but many people stop when you say pasta, or at least feel they should pause. For these people—and for many others as well—I like to offer quinoa with pesto. It has the same simplistic appeal as its traditional counterpart, but with more nutritional value, and none of the gluten-associated baggage.
Making Quinoa With Pesto
When making this recipe consider two things. First, consider the size of your food processor. Use a small food processor, particularly if you prefer a creamy pesto. If you use a large food processor (without increasing the recipe's proportions) all of the ingredients will collect below the blade and you'll end up with a chunkier-textured sauce. (The day I photographed this recipe I only had access to a large food processor, so I can assure you, you'll still get a delicious sauce, but it will be chunky.) Secondly, consider blanching. There are many people who blanch their basil before making pesto because it preserves the vibrant green color of the leaves. In my experience, blanching does indeed preserve color, but it also inhibits flavor. Don't blanch; you want your pesto to be garden-fragrant and flavorful, not muted. I always suggest waiting until the quinoa is cool before adding the pesto; if color is a concern, this is doubly important.
Intentional seasonal living is as much about knowing what nature is offering at any given time as it is about knowing what to do with her offerings. If you find yourself with lots of basil on hand, pesto is a great option that can lead you on many culinary adventures. Once you have your glorious, homemade pesto ready to go, the possibilities are many, but at that point it might be good to check in and ask yourself how you feel. Home cooking is essential to eating well, and your energy is important when cooking. If you decide that easy is the order of the day, many options for your pesto still remain. There's never a need to overcomplicate or overtax yourself, in cooking or in life. When you have simple, delicious recipes like quinoa with pesto on hand, staying healthy, even during the dog days of summer, is no problem at all.
Quinoa With Pesto (Vegetarian, Gluten-Free)
Serves:  4
Time: 30 minutes
Ingredients
1 cup quinoa
1/4 cup extra virgin olive oil
1/4 cup freshly grated parmesan cheese
1 large clove of garlic, finely chopped
1/4 cup pine nuts
1/2 teaspoon sea salt
3 cups basil leaves, loosely packed
Directions
Cook the quinoa according to the package instructions.
While the quinoa is cooking, make the pesto: combine all remaining ingredients in a food processor. Process until smooth.
When the quinoa is done and has cooled, transfer it to a large bowl, add the pesto, mix gently, and serve.
Photos by Shiraz Leyva