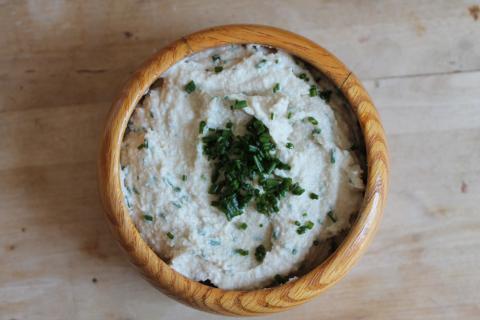 I've always loved sour cream and onion. In fact, I was known for it as a kid. I was that weirdo who would eat chopped onions on my chocolate ice cream. I kid you not! Now that I'm an adult though, I'm a little more…refined with my tastes, especially when it comes to onions. I decided to make a healthy version of sour cream and onion dip (you know, that creamy chip dip that was at all the coolest parties?) and it turned out amazing!
The base is super simple and it's something I've made before in the past as a base for other types of dips. It's just cannellini beans (white kidney beans) and soaked raw cashews. You can play with the ratio. I find 50/50 works best if you want a super creamy and thick dip…Sometimes I use more beans than nuts to make it low fat and more like a hummus texture. Also, feel free to add a splash of olive oil to up the creaminess factor, though I like the idea of a low fat "super creamy" dip. What a rarity!
The ingredients for this dip are crazy simple. It's stuff that's already in your cabinet or fridge—the only thing you'll probably have to go out and buy is the chives. And don't skip that step…that's where you get that delicious green onion flavor! You could use finely chopped green onions instead, but I find chives to be a little subtler and you can put a lot in without it tasting overwhelmingly offensive. Bonus points if you grow your own!
I like to have this dip on hand for a quick midday snack. It's got a ton of protein and healthy fat and it tastes awesome! It's a perfect replacement for your typical hummus. I like to dip oven fries in it and put a scoop alongside some steamed veggies. Of course, you can always dip your ridged potato chips in it! If you're taking it to a party, top the dip with additional chives and chopped red peppers. People will not believe that there's no dairy in it. It's THAT creamy. Trust me. 
Healthy Vegan Sour Cream & Onion Dip
Ingredients
19 oz. can cannellini beans, drained and rinsed
3/4 cup raw cashews, soaked for at least 3 hours
1 large garlic clove (or 2 small cloves)
2 tablespoons fresh lemon juice
1 teaspoon salt (add more to taste)
1/4 cup finely chopped chives
Water, to blend
Directions
1. Soak cashews for at least 3 hours in a cup of lukewarm water. Drain, rinse and throw into a blender.
2. Toss in the drained and rinsed beans, garlic, lemon juice, and salt. Add just a splash of water and blend.
3. Add more water as needed. Blend on low until you have a smooth, dip-like consistency.
4. Scoop into a container, add in finely chopped chives, and stir until combined. Serve alongside raw veggies or chips. Store in the fridge for up to 5 days.