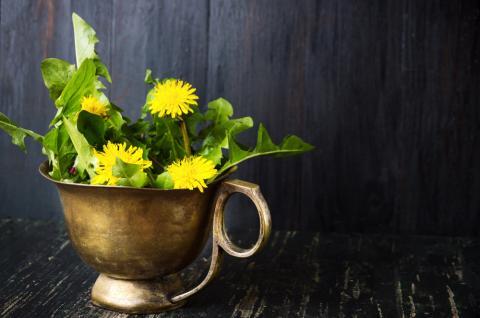 Dandelions aren't just weeds growing in your backyard. They can be used to make a lot of different products, from salves to tea. So if you see them growing in your backyard, don't toss them in the garbage or mow them over! Pick them and salvage them for later. Here are four ways to use dandelion flowers.
Important note on foraging for dandelions: As with any plant, if you intend to forage for it, you must stay diligent and alert. Make sure you're confident the plant you're about to pick is the correct species. Bring a field guide with you or an experienced forager for reference. You should always forage respectfully, never over-harvesting from a plant. Bring a basket or mason jar with you to collect dandelions (instead of a plastic bag which is wasteful and can cut off oxygen from the plants you're harvesting). Happy foraging! 
Dandelion-Infused Oil 
Dandelion flower-infused oil can be used to heal chapped or cracked skin. You can use it in all sorts of DIY recipes (one of which is listed in this article), like dandelion salve, lip balm, etc. You can also ingest it: Use it for cooking or as a base to your salad dressings.  
Ingredients
1 to 2 cups dandelion flowers 
Carrier oil (sunflower, olive, sweet almond, avocado, hemp or apricot oil all work) 
Directions
Fill a mason jar about half way with dried dandelion flowers (you can dry them by just leaving them out in the sun on a towel after picking them).
Cover with about twice as much of your chosen carrier oil (in other words, to the top of the jar). Cap the jar and tuck it away in a cabinet for 4 to 6 weeks. Shake occasionally. When infusion time is over, strain. 
3.      For a quick infusion that doesn't take weeks, set the uncovered jar down into a small saucepan filled with a few inches of water. Heat it over low heat for a few hours, making sure the water doesn't evaporate. Remove from heat and strain.
Dandelion Salve
Before you can make dandelion salve, you first have to make dandelion-infused oil (recipe listed above). Dandelion salve can be used to help soothe sore muscles, moisturize rough, chapped skin, and ease achy arthritic joints. 
Ingredients
1 cup dandelion infused oil 
1/2 tablespoon beeswax pastilles
Directions
Add the oil and beeswax into a heat-proof container (a glass bowl works well), then set it gently into a pan containing several inches of water. Bring the temperature up to medium-low heat and let the container stay in the homemade double boiler until the wax is melted.  
Remove from heat and carefully pour into tins or jars. Let it sit until firm. You should get about four ounces of salve from the size of these ingredients.
Dandelion Tea
Dandelion tea helps purify and detox the blood. It's also helpful to those who suffer from constipation and acne. This tea isn't recommended if you have ulcers or chronic health issues. Consult a medical professional before using.
Ingredients
1 cup dandelion flowers/leaves 
1 cup simmering water 
Directions
After washing and drying off your dandelion flowers/leaves (it can be a mix of both or one or the other), pack them into a mason jar and pour simmering water over them.
Let the tea infuse until it's cool enough to drink, then strain. This could take anywhere from 1 hour to 2 hours. Drink up! 
Dandelion Syrup
Dandelion syrup is a delicious addition to your pantry. You can use it the same way you'd use maple syrup: On pancakes, waffles, and desserts.  
Ingredients
1-1/2 cups dandelion petals (about 125 flowers) 
3 cups water 
2 to 3 cups organic cane sugar 
1/4 to 1/2 cup raw honey 
Directions
Make sure the flowers are washed and dried on a towel after you've foraged for them. Using a knife, cut off the petals as close to the base as possible. Then, put the petals in a medium pot and cover with water. Bring to a boil and allow it to boil for about 30 to 60 seconds.
Remove from heat, cover, and allow to steep overnight in a cool place (like a cool counter or in the fridge). 
The next morning, strain the liquid into a sieve over a bowl and use the back of a spoon to squeeze out as much liquid as possible. Return the water to the pot, add the sugar, and simmer on low heat for 1 to 1-1/2 hours, stirring occasionally.  
Make sure to check for desired consistency by dipping a spoon into the syrup, letting it cool a bit, then testing it with your finger. Store in an airtight, glass container in the fridge.