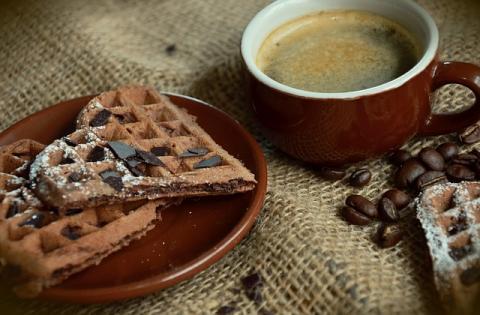 A waffle isn't a waffle without a proper waffle iron. When it comes to cooking off the grid one of the questions I get a lot is "How do you make waffles?" According to The Cast Iron Collector, the cast iron waffle iron has been in use since the 9th century.  It was around the 16th and 17th centuries that waffle irons were fashioned to make thick Belgian waffles. I'm going to share a Belgian Waffle Recipe along with the information on how to properly use a waffle iron on an open fire. This recipe calls for a cast iron waffle maker, which can be found online or at your local outdoor store.
Belgian Waffles 
This recipe will yield 5-6 thick Belgian Waffles.
1 ¾ Cups Flour (I like to use various grain blends)
1 Tablespoon Baking Powder
½ Teaspoon Sea Salt
2 Large Eggs (I prefer fresh duck eggs as they make fluffier waffles)
½ Cup Melted Butter or Coconut Oil
1 Teaspoon Vanilla
¼ Teaspoon Nutmeg
Whisk the flour, baking powder, nutmeg, and salt.
In a separate bowl, beat milk, eggs, melted butter/coconut oil, and vanilla.
Pour the wet mix into the dry mix and mix it with a fork.
Set the waffle mix to the side to allow the baking soda to work its fluffy magic.
Heat waffle iron while you wait.
Using The Waffle Iron
There is almost always a fire going in some fashion when living off-grid. *If you don't have a fire going go ahead and start your fire before making the batter.* You do not need a very big fire -- more than anything you want a small bed of hot coals with a very low flame burning.
You have to preheat the waffle iron for 10 minutes before you make your first waffle. Place the waffle iron directly on the coals and in the flames. The waffle iron should be heated evenly to about 425 degrees Fahrenheit. If you don't have a thermometer, give the iron about 8-10 minutes of heating time. I flip my iron once every couple minutes to ensure it heats evenly.
After the iron preheats you can open it up and see if it is ready. Here's the trick: if there is no smoke at all when it is opened, it isn't hot enough. And if there is too much smoke, it will make a burnt waffle. A little smoke is just right.
Adjust your fire if need be, add a little oil, and start your first batch. Be careful to not overfill the waffle iron or you will have a mess on your hands. I like to grease the iron with a little coconut oil before I pour my mixture in.
Cook the waffle on its first side for about a minute and then carefully flip the iron and cook it for another 2-2 ½ minutes. You can open the iron and peek to see if it is done the way you like it.
You may have to adjust your logs and fire as you cook, which is perfectly normal. Just remember it doesn't have to be a huge fire. Another good habit to get in when it comes to cooking with cast iron is wiping them out when they are still warm. After your waffles are made simply place the iron somewhere safe to the side of the fire and let it cool while you feast. About the time breakfast is done you can wipe out the waffle iron with a dry towel, being sure to remove any food debris and excess oil.
Toppings
What you choose to top your waffles with is completely up to you. If I have a busy day ahead of me I like to make a warm banana mash to spread over the waffle, then top it off with fresh berries, followed by some energy boosting nuts.
My banana mash recipe is simple:
Slice up about 3 bananas and toss them in a cast iron skillet.
Slowly cook the sugars out of the bananas and as they get softer, mash them down into a sauce.
Add honey or brown sugar to taste.
Remove from heat and sprinkle a little cinnamon mix and spread over a warm waffle.
So now that you know how to make Belgian waffles over an open fire I suggest you try it yourself. There's just something different about the taste of food cooked over an open flame. Something I like to do is mix-and-match my toppings, trying out different recipes for the seasons.
Weekly Cast Iron Tip
When it comes to storing your cast iron cookware it is best to keep it in a place with low moisture. Moisture can ruin cast iron pretty quickly by causing a build up of rust to take shape.