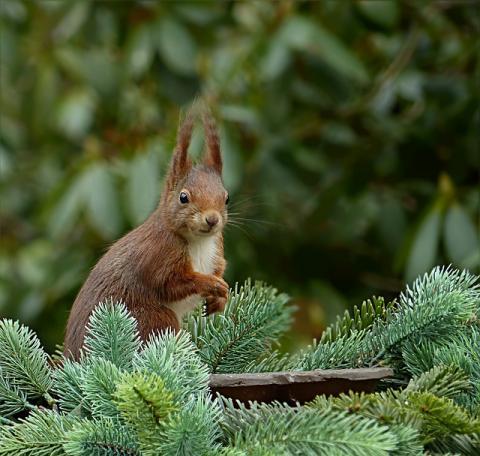 Most people would label everything that grows from the cracks in the sidewalks as weeds, but are they? Nope: You can actually eat a lot of plants you probably never noticed before. Unfortunately, I can't include all the foragable plants in your neighborhood in this one article, but the three I chose should be easy enough to spot. They're ideal for the beginning forager, especially since no one really teaches this stuff in school. These plants won't always be in season, but I suggest keeping this article bookmarked so you can come back to it whenever they are. Now, without further ado, here's a simple guide to three plants worth knowing and foraging for.
Lamb's Quarter
If you like spinach (I know I do), you're bound to love lamb's quarter. Why, you ask? It's the European relative of spinach and beets, only with way more nutritional value. While both beets and spinach are healthy choices, lamb's quarter has more vitamin A, calcium, iron, and potassium than anything you can find in grocery stores (impressive, right?). Lamb's quarter also has B-complex vitamins and vitamin C, along with a bunch of trace minerals. Aside from the impressive health benefits, lamb's quarter can be used the same way spinach is used: In salads, soups, sandwiches, and side dishes. It can be eaten raw or cooked, and it's fairly easy to harvest once you know how to identify it.
Locate
Look for lamb's quarter from mid-spring to mid-fall: That's when their leaves are in season (you can also eat the seeds, but the leaves are perfect for beginner foragers). It tends to grow in sunny or partial shade and rich soil. They can be found in the United States and Canada in disturbed habitats, parks (Central Park in New York City has an abundance of lamb's quarter, for example), fields, roadsides, agricultural land, and edge habitats.
Identify
To identify, look for a branching plant three to five feet tall or more. It should have diamond-shaped, coarsely toothed mature leaves on it with mealy white undersides. The younger leaves will be linear and glistening white all over. The plant will be odorless, but may have ripe fruits on them filled with tiny black seeds, and/or dense spikes of small, green, spherical flowers on the upper leaf axils. The ripe fruits develop from these flowers, turning into spherical fruits that turn reddish in autumn. If the plant you've found sounds anything like this, it's lamb's quarter.
Harvest + Cook
Once you've properly identified this plant, harvesting is simple: Just pinch off the mature, older leaves with your fingers. As I've said before, you can eat these raw or cooked (they taste similar to spinach and cook in 5–10 minutes). Here are a few recipes to get you started. If you wish to harvest the seeds, look for the dead plants in late fall where they're abundant and tall. You can use a pair of kitchen scissors, pruning shears, or a pocketknife to clip off large amounts of seed clusters. Make sure you take a bag with you (preferably a paper supermarket bag) to store the seeds and leaves in as you collect them. You can take the leaves out of the bag immediately when you get home, but leave the seeds in there to dry out for a couple of weeks (assuming they aren't dry by the time of harvest). Once they're dried out, rub the seed heads over a bowl to loosen the seeds. Transfer them to a tray and blow a fan across the tray over the sink (or even outdoors) to get rid of any chaff. You can use the seeds immediately or store in a tightly sealed jar (they'll last this way indefinitely). You can cook the lamb's quarter seeds as you would any grain, by boiling them in water. Boil them for at least 15 minutes, or until the seeds are soft, like rice. If you want to make a nice hot cereal, try substituting the water with any sort of plant-based milk along with herbs you'd put in regular oatmeal (nutmeg, cinnamon, etc.) and a sweetener of your choice.
Cautions
There are only two things you have to be careful of with lamb's quarter: Red leaves and nitrate poisoning. If you see lamb's quarter leaves botched with red, this means the plant has undergone insect damage. If you come across these sort of leaves, don't eat them. There's a tiny leaf miner that loves to burrow between the top and bottom of the leaves, which is what causes the red blotches. Also, try to avoid eating lamb's quarter growing in polluted soil filled with too many nitrates, as this can cause nitrate poisoning. Your best bet to avoid this is looking for lamb's quarter in places a decent distance from roadsides and cars.
Dandelion
Almost everyone is familiar with dandelions, but they're not only good for making wishes. Every part of the dandelion can be eaten, from their roots to their flowers. Their leaves and flowers are packed with more beta-carotene than carrots, and their roots contain nutrients such as inulin and polysaccharide that help diabetics and hypoglycemics. The benefits don't end there either: The leaves contain a surplus of vitamins such as B1, B2, B5, B6, B12, C, E, P, and D. If you regularly take vitamins over the counter, this plant is a natural alternative to consider incorporating into your diet.
Locate
Dandelions are not hard to locate, but they start blooming in the spring. This is when their leaves are most tender and delicious to harvest and eat. However, you can also harvest in late fall because new leaves appear during this time. Spring is also the best time to harvest crowns and flower buds too, but some continue to bloom into summer and fall. They can be found virtually anywhere in the United States, though their origin was in Europe. Look for them on lawns, disturbed habitats, cultivated areas, meadows, and roadsides.
Identify
It's pretty easy to identify a dandelion: Just look for the familiar yellow composite flowers attached to a hollow, hairless flower stalk. If there aren't any flowers left (they start to die in late fall), look for a basal rosette of leaves (leaves that grow only from the lowest part of the stem of a plant) with large teeth pointing toward the leaf base. There should also be a cluster of flattened, green, rounded flower buds when the plant is still starting to sprout in spring. After the flower dies, it becomes a spherical cluster of white parachutes attached to tiny brown seeds. There are also no hairs on any part of the plant, along with no other leaves but basal leaves.
Harvest + Cook
When harvesting leaves, only collect the smaller, younger ones when they come up in early spring and late fall. While more mature leaves are still edible, they tatse extremely bitter compared to the younger leaves. Choose plants with the broadest leaves (these taste the best), not the ones with the most teeth. You can either grab handfuls of carefully selected leaves or cut the root just under the center of the rosette with a pocketknife. While it's still intact, you can shake off the soil and bag the plant to take home with you. This method works best if you, without a shadow of a doubt, want to use the whole plant in cooking. As far as flowers go, look for the most brightly colored ones, as these are the tastiest. Speaking of tastiness, here are a few dandelion recipes to get your mouth watering.
Cautions
This plant may not be ideal for people with irritable bowel syndrome or stomach problems. Please note that eating dandelion from certain areas – such as Central Park – can get you a summons for criminal mischief for removing vegetation. For that reason, choose areas you harvest dandelions in wisely.
Japanese Knotweed
This tall plant is completely invasive and grows like wildfire throughout much of the United States, though it originated (as you can guess) in Asia. Japanese knotweeds provide vitamin A and C, along with minerals like potassium, zinc, phosphate, and manganese. You can also find resveratrol in them (common in red grapes and wine), a nutrient known to reduce heart disease and bad cholesterol (LDL). Not to mention, this vegetable is great for soothing the stomach (although too much of it may act as a gentle laxative, so be careful).
Locate
Since you can only eat this plant when the shoots are tender and young, look for it in the early spring. Very rarely will new shoots come up in the fall, though it happens on occasion. The flowers and seeds of this plant are always inedible, but as the plant matures, so are the stalks. In early spring, look for it in partial shade or full sunlight. It tends to like roadsides, disturbed habitats, riverbanks, and fields.
Identify
To identify this plant, look for upright, jointed, unbranched green shoots spotted with pink, magenta, and red. There should also be some whitish sheaths above each joint, making the young stalks kind of resemble asparagus. More than likely the new shoots will be surrounded by skeletons of the previous year's Japanese knotweed, which will look hollow, jointed, woody, and bamboo-like. The leaves on the young stalks should be smooth-edged and bulging triangular  leaves that are 4-6 inches long and 2.5 to 4.25 inches wide with pointed tips and straight bases. You might also notice long spikes of tiny white flowers, followed by small, papery, smooth fruits arising from leaf axils.
Harvest + Cook
To harvest, you can break or cut off the shoots near ground level. Don't eat the leaves: They're inedible. Just discard them and bag the shoots (the yummiest ones are around 6 to 8 inches tall). The best part is you can collect a lot in a short amount of time and you don't even have to peel them. I recommend harvesting shoots that are 6 to 8 inches tall because smaller shoots are harder to harvest and taller shoots tend to develop tough rinds, which require peeling. Shorter shoots are also only edible on the top portion of the plant, where the stalk starts to become tenderer: In other words, it's more work for less food. Once you've harvested all the shoots your heart desires, now comes the cooking. Note that these shoots are intensely sour, so use them sparingly. Many people like to add them to fruit dishes to counteract the sweet flavor of fruit.  They also taste fantastic in baked goods such as cobblers, pies, pastries, and cakes. You don't have to add them to sweet meals only, though: They make great additions to soups, stews, and casseroles. Here are some recipes to get you started (look on the right side of this page to access the recipes).
Cautions
Do yourself a favor and don't eat large quantities of Japanese knotweed raw. Raw knotweed has something called oxalic acid (a strong, poisonous acid found in many plants and often used as a bleaching or cleaning agent). As you can imagine, this isn't exactly something you want to ingest much of. However, that said, cooked knotweed has significantly less oxalic acid and should be consumed more than raw knotweed. 
Photo Credit: "Japanese Knotweed" mbwehrung is licensed under CC BY 2.0