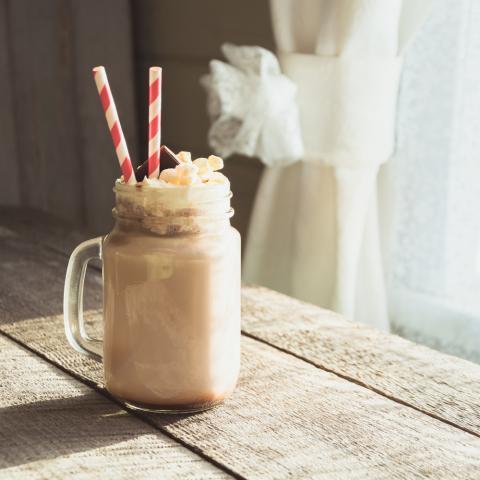 I've been on a dandelion tea KICK lately. I'm not a coffee drinker, but I do like the taste of it, believe it or not. So when I'm hankerin' for a cup of joe, I'll reach instead for my roasted dandelion root tea bags. The result is a hot, almost chocolate-y brew that is so satisfying first thing in the morning. I usually add a splash of coconut milk and some honey and drink it on the porch, just like a REAL coffee drinker would. It honestly tastes just like coffee, especially if you steep it for a long time and then re-heat. 
Dandelion tea is sold in raw and roasted versions so make sure you get the "roasted root tea." The raw root is incredibly bitter and is most often used strictly for medicinal purposes; although roasted dandelion root is also used for therapeutic uses it's not nearly as bitter and "herbal-tasting" as the raw. 
The great thing about dandelion root is that it's chock full of health benefits. It aids in kidney function and detoxification, acting as a powerful diuretic. This is particularly useful when you drink it first thing in the morning on an empty stomach. Dandelion tea is also famously known to be a powerful liver cleanser and is often used in liver detox herbal formulas. Another great thing to keep in mind about dandelion tea is that is contains probiotics as well as antioxidants that may help to reduce inflammation and stimulate circulation. It also contains a high amount of minerals such as calcium, zinc, iron, and magnesium, which are all crucial for bone and joint health. So not only does it taste amazing, it also can do amazing things for your health. Score!
I usually have a smoothie in the morning with bananas, blueberries, and almond milk, but then I thought…why not add in some of my "dandelion coffee" to make a coffee milkshake?
I made a SUPER strong cup of dandelion joe by steeping two tea bags in a mug of hot water and waited until it came to room temperature, which took about one hour. I ended up with a coffee-like substance that was incredibly dark and rich. 
The result was a thick and creamy shake that seriously tasted like any other coffee milkshake you'd get at a specialty coffee shop, and the great thing about it is that it contained no refined sugar, caffeine, or dairy. That's right! One hundred percent vegan and whole food based. I would definitely recommend adding some cocoa powder or even some almond extract if you so desire to really make that coffee flavor pop. 
Dandelion Coffee Milkshake
Ingredients:
2 frozen bananas
3/4 cup of roasted dandelion root tea (2 tea bags in 1 cup of water)
1/4 cup of almond milk (unsweetened)
A pinch of stevia (alternatively use a medjool date)
A couple shakes of cinnamon
 Directions:
Add all ingredients to the pitcher of your blender, making sure the tea has cooled to at least room temperature. Blend on high until smooth and creamy. Pour in a glass. Drink! Makes one serving.