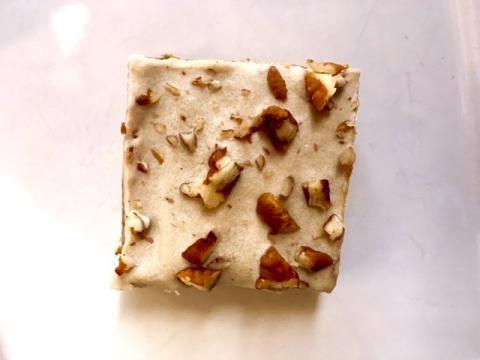 Carrot cake holds a special place in my heart. Ever since I was little, I'd always pick the carrot cake muffin at the mall. What kid in their right mind would pick carrot cake!? This one, apparently. While all the other kids shoveled in the chocolate chip muffins, I sat with my carrot one, happy as a bunny.
With memories of carrot cake muffins swirling in my head, I got to work on the best raw carrot cake EVER. 
I served this after a marvelous Easter dinner with devilled eggs, potatoes, salmon, salad, and turkey. It was super fresh and super yummy.  After this very rich meal, I brought out the carrot cake and guess what…everyone at the table loved it! Even my grandpa who eats the same old thing day in and day out thought it was amazing! It was so cool to be able to share my love of healthy eating with my relatives!
Raw Vegan Carrot Cake
Cake Ingredients
2 cups carrots (finely shredded)
1 cup medjool dates
2 cups walnuts
1/2 cup shredded coconut (unsweetened)
1/2 cup coconut flour
1/4 cup coconut oil (melted)
2 teaspoons cinnamon
1 teaspoon ginger
1/2 teaspoon nutmeg
Icing Ingredients
1 cup raw cashews (soaked for an hour)
3 tablespoons maple syrup
2 tablespoons coconut oil
1/4 cup full fat coconut milk
stevia, to sweeten
1/2 teaspoon vanilla extract
Directions
1. Start off by rough chopping the dates. Then dump them into a large food processor and blend until they form a thick, chunky, sticky paste. You may need to stop every now and then and scrape the sides.
2. Add in the walnuts, carrots, coconut oil, coconut, coconut flour, and spices. Grind it all up until it forms a thick dough. It'll still be a little chunky, but that's what you want! Don't over stuff the food processor; do it in batches, so once you've got all your ingredients in there and mingling, take half of it out and grind up the other half. Place that finished dough ball in a parchment lined pan and then grind up the rest. Trust me…it's not gonna work otherwise!
3. For the icing, dump the cashews, maple syrup, melted (and cooled) coconut oil, milk, and vanilla into a high-speed blender and blend until smooth. You might need to add some water to get it going. Aim for a thick, frosting-like consistency. Feel free to add more stevia to up the sweetness level. I found it needed the boost.
4. Line a square casserole dish with parchment paper and dump the carrot cake dough into the dish. Press firmly with your hands.
5. Spread with icing and freeze until you're ready to serve it! I found it was best straight out of the freezer. It cuts like a real carrot cake!