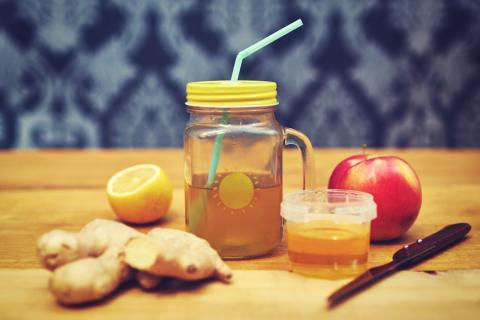 Kombucha has grown tremendously more popular in the last few years, but there are lesser known probiotics that still deserve attention (and a taste.) Switchel is a fermented drink, often made with maple syrup, apple cider vinegar, and ginger. Some varieties use honey for sweetness, making the drink both incredibly hydrating and nutrient-packed—plus, for those who despise the taste of apple cider vinegar, it can be a sneaky way to get it down.
Switchel goes by a few different names, and depending on where you find it, it may be called Haymaker's Punch (harkening back to farmers who would drink it as a refreshing punch) or Ginger-Water, a la Laura Ingalls Wilder. As an up-and-coming trendy drink, you're most likely to find it simply as switchel.
There are numerous benefits to this tangy drink. Both maple syrup and honey, the two sweeteners often used in switchel, contain numerous benefits. Raw honey is rich in B vitamins, acts as an anti-inflammatory, and has numerous healing properties for everything from acne to colds and flus to athletic performance. Maple syrup is equally nutritious, and filled with minerals and vitamins like iron, calcium, potassium, magnesium, and more. Add both, ensuring you keep the honey raw for higher nutrients.
The base for this refreshing drink, apple cider vinegar, is well known as a cure-all in the kitchen and medicine cabinet. Along with its antibiotic properties, apple cider vinegar (more commonly abbreviated as ACV) is terrific for better digestion, lowering cholesterol, and even helping with muscle fatigue.
Ginger, the last ingredient in switchel, is considered an ultimate medicine in Ayurveda, thanks to its many healing properties. Whether as a digestive, anti-inflammatory, or immune booster, ginger adds zest to any dish or drink.
As a trio, these three ingredients work as a natural sports drink, packed with electrolytes (thanks to the potassium in each ingredient) that make switchel a solid choice post-exercise.
Several versions of switchel exist and depending on the region, you might find that the ingredients include molasses, brown sugar, or cane sugar, and while it's fun to try the specialties of the region, look for varieties made with raw honey or pure maple syrup for the best health benefits (and the fewest negatives).
Use this base recipe as a way to get creative with how much sweetness (raw honey) or spiciness (ginger) you prefer. While switchel can be made within minutes if you're using sparkling water or seltzer water as your base, for the best taste (and most benefits), try fermenting your batch for a few days to double your effervescence.
Switchel
Ingredients
Raw honey or pure maple syrup (grade B tastes best)
Raw apple cider vinegar
Ginger
Optional Additions
Lemon juice
Lime juice
Fresh mint
Turmeric
Cinnamon
Hibiscus
Blueberries
Directions
Add 1/4 to 1/3 cup sweetener (depending on taste), 1/4 cup apple cider vinegar, and 2 inches of peeled and minced ginger to 8 cups filtered water.
Add any additions, then cover tightly with lid and refrigerate for at least 24 hours.
When slightly bubbly, strain to remove ginger pieces.
Serve fresh with a squeeze of lemon or lime juice, a few sprigs of mint, and any additional sweetener to taste.