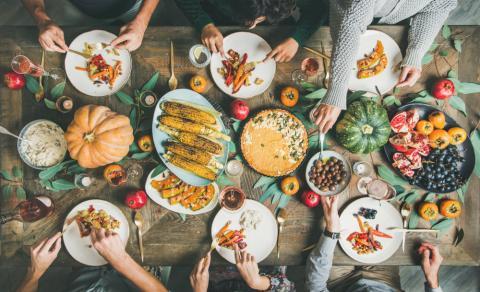 It's the holiday season, and if you're hosting a get-together, that means making tons of food! It can be quite overwhelming, especially when you're still trying to be as healthy as possible. Thankfully, there are ways to create a healthy holiday feast that's both delicious and nutritious. This guide will show you how to make great vegetarian (and some vegan) dishes utilizing seasonal food that will both delight and fill your guests. It will also show you how to create some healthy holiday cocktails that will have your guests begging for the recipe. To make sure they're extra healthy, try to purchase all the ingredients organic or from a local farmers market. Ready to get cooking?
Appetizers
To keep your guests satiated as they wait, make sure to leave these delicious finger foods on an accessible table at all times.
Butternut & Goat Cheese Crostini 
These crostini are bound to melt in your mouth with delicious, tasty goodness. This dish is a total crowd pleaser.
Ingredients
1 baguette (toast slices)
1 small butternut squash
1-2 teaspoons of goat cheese on each crostini
sprinkle of thyme leaves (optional)
flaky salt & olive oil, to taste (optional)
Directions
First, cut 1/2-inch (12-mm) slices from the baguette and drizzle with olive oil and salt.
Then, broil on one side for about 2 minutes on high.
Next, peel and cut the butternut squash into 1/4-inch (6-mm) cubes, then roast at 400 degrees Fahrenheit with olive oil, salt, and pepper for 20 to 25 minutes (or until golden brown). Make sure to turn them a couple of times, too! 
When they're done, put 1 to 2 teaspoons of goat cheese on each toasted slice.
Then, sprinkle all the crostini with roasted butternut cubes, fresh thyme leaves, flaky salt, and olive oil.
Spinach & Artichoke Dip Cups 
This appetizer is vegan, so it will satisfy anyone at your party. Plus, it tastes great and is very easy to make. (And if you don't need it vegan, you can use the non-vegan versions of these items!)
Ingredients
1 can artichoke hearts, drained & chopped 
1 cup fresh spinach, chopped
1 cup mayonnaise (use vegan if desired)
1 cup mozzarella shreds (use vegan if desired)
1/4 cup nutritional yeast 
2-3 cloves garlic, chopped 
parmesan, to taste (optional, use vegan parmesan if desired) 
salt & pepper to taste 
1 can crescent roll dough (use vegan if desired)
Directions
Preheat the oven to 350 degrees Fahrenheit, then combine all the ingredients except the crescent roll dough in a large bowl.  
Unroll the crescent roll dough and place each triangle in one section of a muffin tin.
Fill each triangle with some of the dip mixture.
Fold the corners of the crescent triangles to cover the dip.  
Bake for 15 to 20 minutes, or until the cheese is melted and the dough is golden brown. 
Stuffed Endives 
This is a great low-hassle appetizer that's super healthy. Better yet, you can even create your own endive bar where you let the guests pick and choose what to stuff inside the endives! 
Ingredients
5-7 endives (leaves separated) 
1 cup pomegranate seeds 
1 cup salted sunflower seeds 
1 cup butternut squash, roasted & cubed
1 cup crumbled gorgonzola cheese 
1 cup ricotta (or cream cheese) 
1 cup chopped scallions 
1 red onion, caramelized & chopped 
1 cup seedless red grapes, halved 
1 handful of fresh thyme leaves 
Directions
Before you do anything, make sure the butternut squash and the red onion are properly prepared. You'll want to cut the butternut squash into 1/4-inch (6 mm) cubes then roast it at 400 degrees Fahrenheit with olive oil, salt and pepper for 20 to 25 minutes (or until golden brown). For the red onion, chop it up and caramelize it in a pan with 1 tablespoon of butter, 1 tablespoon of olive oil and a pinch of salt. These are the only two ingredients that require cooking. 
Once you have these two ingredients prepared, it's time to make a choice: Do you want your guests to create their own flavor combinations, or do you want to stuff the endives yourself? Whatever you decide, you will need a big platter to place everything on. If you decide to create an "endive bar," so to speak, leave the toppings in small bowls with spoons for serving. If you decide to stuff them yourself, start with a base of cheese and pile 2 or 3 toppings over it.  
Some flavor combinations include butternut, caramelized onions and gorgonzola; cream cheese, scallions and grapes; ricotta, thyme, pomegranate, and butternut; pomegranate, grapes, and sunflower seeds.
Entrees 
Time for the main event! Here are a few dishes that would complement any healthy feast.
Squash Lasagna
Lasagna is delicious, but it's not always the healthiest. This recipe sneaks in a healthy ingredient that your guests are bound to enjoy: acorn squash.
Ingredients
1 large acorn squash (or 2 small ones) 
5 cups marinara sauce 
9 no-boil lasagna noodles 
16 oz. ricotta 
3 scallions, chopped 
1/4 cup sage, chopped 
3 cups grated mozzarella 
salt, pepper & garlic powder 
Directions
Start by cutting the acorn squash in half and removing the seeds. Then, bake it for an hour at 400 degrees Fahrenheit or until a knife goes in easily. Scoop out the flesh and mash with a fork. 
Next, spread some sauce in the bottom of a 9x13-inch baking dish, then layer each ingredient (roughly) in the order written in the ingredients list, repeating 3 times. Finish by sprinkling it with salt, pepper, and garlic powder every couple of layers. If you want, you can also use fresh minced garlic. Save some of the mozzarella to sprinkle on top. 
Bake at 375 degrees Fahrenheit for 45 minutes.
Autumn Harvest Casserole 
Who doesn't love a good casserole? Here's one that incorporates autumn produce into the mix. 
Ingredients
2 cups creamy portobello mushroom soup 
4 Tablespoons nutritional yeast flakes 
1/4 teaspoon salt  
1/4 teaspoon ground cayenne pepper  
3/4 teaspoon cracked black pepper  
1 zucchini  
1 yellow squash  
1-1/2 cups sliced mushrooms  
1/4 cup pumpkin
1/4 cup acorn squash
2 cups bulgur  
1 small can of sliced black olives  
1 eggplant  
1-1/2 cups hot water  
2 teaspoons guar gum  
3 handfuls of Yukon gold and sweet potato chips  
1 cup shredded cheese (use vegan if desired) 
Directions
Preheat the oven to 350 degrees Fahrenheit.  Heat the portobello mushroom soup on medium and add nutritional yeast flakes, salt, cayenne, and black pepper. 
While that is simmering, dice the zucchini and yellow squash and toss in a mixing bowl with the mushrooms, pumpkin, acorn squash, bulgur, and olives. Place the mixture into a 9x9-inch glass baking dish, layered with slices of eggplant. 
 Add hot water and guar gum to the broth. Mix well and immediately pour over the mixture in the baking dish.
Cover the dish with aluminum foil and bake for 35 to 40 minutes (until the bulgur has absorbed the water and the casserole loses its soupiness).  Remove from the oven and set the oven to broil on high.  
Crush the potato chips and spread evenly over the top of the casserole, then top with cheese.
Place the dish back in the oven and broil for 5 minutes, or until the cheese is bubbling and the chips start to turn dark brown around the edges. Let stand for 10 minutes before serving.
Vegan Pot Pie 
This dish will make any non-vegan happy, simply because it's such a delicious comfort food. It can easily be adjusted to add meat into it too, if you prefer it that way.  
Ingredients 
3/4 cup yellow onion, chopped 
1 large clove garlic, minced 
2 cups veggie broth 
2 cups frozen mixed vegetables (like corn, green beans, and carrots) 
1/4 cup unsweetened plain almond milk 
1/4 cup unbleached all-purpose flour 
2 bay leaves 
pinch each sea salt & black pepper 
1 pie crust (or puff pastry) 
Directions 
Preheat oven to 425 degrees Fahrenheit. Add 2 tablespoons of olive oil to a large saucepan over medium heat. Then add onion and garlic and a pinch of salt; stir. Cook until soft—about 7 minutes.
Add the flour and stir with a whisk, then slowly whisk in the broth.
Add almond milk and bay leaves and stir. Simmer until the mixture is thickened (about 10 minutes). If it still appears too thin, scoop out 1/2 cup of the broth and add 1-2 tablespoon more flour and whisk. Add back into the pot to thicken. Wait a few minutes. Then repeat if necessary. 
While the sauce is thickening, prepare the pie crust. Cut out, leave unbaked, and set aside. 
Once the sauce is thickened, add the frozen vegetables and cook for 4-5 more minutes. Taste and adjust seasonings, adding more salt and pepper if needed. 
Discard the bay leaves and divide the mixture evenly between 5-6 lightly greased ramekins or an 8×8 baking dish.
Top with vegan pie crust and brush the tops of the crust with melted vegan butter.
Set your 8×8 dish or ramekins on a baking sheet to catch overflow and bake until the crust is golden brown and the filling is bubbly (about 14-17 minutes). Let cool for 5 minutes before serving.
Desserts 
You can't have a feast without dessert. Here are some desserts that are still relatively healthy, when not over-eaten. 
Salted Fudge with Cinnamon 
Fudge is delicious, and setting this on the table makes great finger food after a big meal.
Ingredients
3 cups water 
1-1/2 cups butter 
2/3 cup evaporated milk 
12 oz. semisweet chocolate chips 
7 oz. marshmallow crème 
1/2 teaspoon cinnamon 
Directions
First, boil and stir the sugar, butter, and evaporated milk for 3 minutes.
Then add the semisweet chocolate chips, marshmallow crème and cinnamon. Stir over low heat until combined well. 
Next, line a 9x13-inch pan with parchment and pour in chocolate mixture.
Sprinkle with flaky salt and put it in the freezer until it cools and hardens (this should take about 15 minutes).
Using the parchment, pull the whole fudge block out of the pan and onto a cutting board and use a large chef's knife to slice.
Quick Baked Pears 
This is a great dessert for those who enjoy fruit as opposed to processed sweets. It's definitely healthy compared to conventional desserts. 
Ingredients
2 large Bosc pears 
2 teaspoons sugar 
1/4 teaspoon cinnamon 
1/4 cup dried cranberries or dried mixed fruit 
1/4 cup low-fat granola 
1/4 cup apple juice 
1/2 cup vanilla low-fat frozen yogurt (divided into 4 small scoops) 
Directions
Peel pears; cut in half lengthwise.
Use a melon baller or grapefruit spoon to remove core and seeds, creating a hollow. 
Place pear halves, with cut sides up, in a glass pie plate.
Combine sugar and cinnamon; sprinkle evenly over pears. 
Combine cranberries and granola; mound into hollows of the pear halves.
Pour the apple juice in and around pear halves. Cover dish loosely with wax paper. 
Cook in microwave on high 6-8 minutes or until the pears are tender when pierced with a knife. Let stand in the dish 5 minutes. Use a large slotted spoon to transfer the pears to serving plates. 
Cranberry-Nut Chocolate Chip Cookies 
If you love cookies, you'll love these. Made with whole wheat flour, walnuts, and cranberries, they're definitely on the healthier side.  
Ingredients
3/4 cup all-purpose flour (about 3 1/3 ounces) 
3/4 cup whole wheat flour (about 3 1/2 ounces) 
3/4 cup regular oats 
1/2 teaspoon baking powder 
1/4 teaspoon baking soda 
1/4 teaspoon salt 
1/4 cup dried cranberries 
2-1/2 Tablespoons finely chopped walnuts 
2-1/2 Tablespoons semisweet chocolate minichips 
3/4 cup packed brown sugar 
5 Tablespoons butter (softened) 
2 Tablespoons honey 
3/4 teaspoon vanilla extract 
1 large egg 
1 large egg white 
cooking spray 
Directions
Lightly spoon flours into dry measuring cups; level with a knife. Combine flours, oats, baking powder, and the next 5 ingredients (through chips) in a large bowl.
Combine sugar and butter in a large bowl; beat with a mixer at medium speed until light and fluffy.
Add honey, vanilla, egg, and egg white; beat well.
Add flour mixture to sugar mixture; beat at low speed until well-blended. Cover and refrigerate 8 hours or overnight. 
Preheat oven to 350° Fahrenheit. Drop batter by tablespoonfuls onto a baking sheet coated with cooking spray.
Bake at 350° for 10 minutes. Cool 2 minutes on pans. Remove from pans, and cool completely on wire racks.
Cocktails 
What would a party be without some cocktails? These are both delicious and seasonal.  
Cranberry Rosemary Cocktail 
You won't regret making these: They're loaded with holiday cheer and lots of flavor!  
Ingredients
2 bottles of prosecco (chilled) 
3 cups white cranberry juice (or white grape juice) 
20 drops Angostura bitters 
rosemary sprigs 
1 cup cranberries 
Directions
Mix all ingredients in a pitcher or punch bowl with ice.
Prepare glasses ahead of time with a few fresh cranberries and a sprig of rosemary as garnish. 
Spice Mulled Wine 
Perfect for any wine-lover in the room, this spice mulled wine will get the room buzzing. 
Ingredients
1 (750 ml) bottle of dry red wine 
1 orange (sliced into rounds) 
1/4 cup brandy (optional) 
1/4 cup honey or sugar 
8 whole cloves 
2 cinnamon sticks 
2 star anise 
optional garnishes: citrus slices (orange, lemon, and/or lime), extra cinnamon sticks, extra star anise 
Directions
Combine all ingredients in a non-aluminum saucepan, and bring to a simmer (not a boil—you don't want to boil the alcohol out!) over medium-high heat.  Reduce heat to medium-low, and let the wine simmer for at least 15 minutes or up to 3 hours.
Strain. (You can also place the oranges, cloves, cinnamon, and star anise in a cheesecloth. Then simply strain and pull out the bundle when ready to serve.)
Serve warm with your desired garnishes. 
Clementine Cocktails  
Sweet, but not overbearing, these are perfectly refreshing drinks. 
Ingredients
4 cups clementine juice (or orange juice) 
4 cups seltzer 
8 oz. bourbon 
Angostura bitters (about 15 drops) 
Directions
Mix all ingredients in a small punch bowl or large mixing bowl and serve with a ladle.  
If you'd like, you can also create an ice ring and add it to the bowl. Just freeze 4 sliced clementine in a Bundt pan with water overnight. Add the ice ring just as guests arrive.