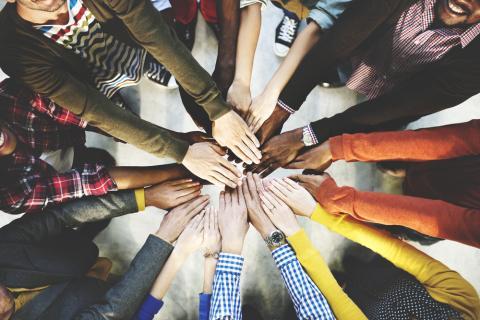 As humans, we crave social interaction. Even the most introverted individuals still require human contact on some level. It's a powerful tool that gives us a sense of being and understanding. For some, social interaction is part of daily life; for others, it has to be sought out. One of the best ways to become social with a sense of purpose is through community.
Becoming involved in your local community is as much rewarding as it is healing. It gives us the interaction we crave, while developing a sense of purpose. Connection, bonding, and confidence can all be gained by becoming involved – not to mention having fun. The best part is, you don't have to go far to achieve that! Getting involved can be as simple as helping a neighbor with a household project, or immersing yourself full-on into becoming an active member by joining a community council. From the small to the large, here are some ways in which you can make a positive impact by becoming involved in your own community.
1. Volunteer
Have a day off? Volunteer your time. There are all sorts of events, activities, and organizations that are in need of volunteers. You could help at the local animal shelter, volunteer at the retirement home, take part in a festival, or volunteer for an organization in line with your interests – like wildlife or art. Simply by helping, you gain a sense of well-being and can expand upon your own knowledge.
Research some local organizations in line with your interest and you'll find a plethora of opportunities just waiting to be seized. You can also check out VolunteerMatch.org to find organizations in your area that are looking for helpers.
2. Join a Meet-up Group
Whether you're into hiking, photography, or simply reading, there are all kinds of meet-up groups for individuals who share a common interest. When joining a group solo, don't be intimidated! The entire purpose of the group is to bring like-minded people together. Engaging in good conversation about similar interests is all the confidence you need. You may even meet interesting people that can lead to lifelong friendships.
3. Take Part in Community Gardening
Not only do you get delicious food from community gardening, but it's great for the environment and is rewarding – mentally and physically! Seek advice from fellow gardeners and have fun being outside. You may find it is more rewarding than relying on electronics for social interaction. Gardening is also a great activity for the kids to take part in. Set some time aside and get your hands dirty. It will enhance your appreciation of food and the community you are in.
4. Organize Your Own Event
For the real go-getter, organizing a local event is an excellent way to become more involved in your community. You can lend your own expertise to teach others about your skills – like painting – or create your own fundraiser for a local charity. You can even keep it simple and just create a space where others can come engage in a hobby.
Maybe you haven't found any events that really spark your interest in your community, or you know likeminded people that would love to get together. That's the great part about starting your own event! You can make it whatever you want. After all, that's how the other events got started.
5. Give Back to the Kids
Becoming a big brother or sister not only gets you involved in your community, but it can have a lasting impact on a kid's life that truly makes a difference. Mentoring a child in an after-school program or through the YMCA can engage a child in opportunities they may not have had otherwise. It can be as simple as playing a game of basketball, or helping out with math homework. Every child needs a role model, and that's what's so great about becoming a big brother or sister.
6. Play Sports
Like baseball? What about soccer? Or maybe you're into dodgeball? There are many opportunities to join local sports groups. With weekend and weeknight leagues, sports teams understand that people with a busy schedule also need some time to play. Joining a sports team can forge lasting friendships while keeping you fit and socially healthy. Even if you aren't the star on the team, the social bonds can be rewarding. Check out local listings to find out what is available in your area.
7. Participate in Clean-Ups
Taking part in a local clean-up is rewarding in itself. It's an excellent way to give back to the community, not to mention make the world a better place. Beaches, parks, and other community projects are always looking for a few helping hands. Set aside one day of your time, and you can feel good knowing you've made a little bit of difference.
It's easy to go about your daily life and never get to know your neighbors – especially in some cities. When you stop to take the time, however, to become involved in your community, you may find a new world that was waiting for you right outside your door. No matter how big or small your contribution is to your local community, a contribution nonetheless can have lasting impacts that can positively affect you and those around you.