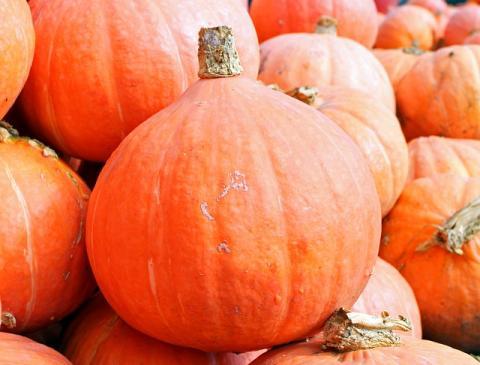 Looking for new ways to cook with this fall favorite? Try mixing pumpkin into your breakfast.
It's hard to find a pancake recipe that's wholesome, healthy, minimally refined, and satisfies the Saturday morning craving for comfort food. There are endless recipes out there for gluten-free pumpkin pancakes, but I prefer ones that are less cakey in texture. After sampling a half-dozen pumpkin pancake variations, this original recipe is the crowd pleaser. I've found these pancakes tend to be more doughy, so if you like a moister consistency like me, these are perfect.
Unlike traditional buttermilk cakes that weigh you down, this variation provides a more balanced energy – and a lot more of the healthy stuff. Using a hearty blend of gluten-free flours and pumpkin, these give a boost of fiber and vitamins. What's not to love?
Pumpkin Pancakes
Makes about 10 four-inch pancakes. 
Ingredients:
¼ c coconut flour
½ c gluten free all-purpose baking flour
½ tsp apple cider vinegar
½ can pumpkin puree
¼ tsp cinnamon
¼ tsp vanilla extract
½ tsp baking soda
1 tsp baking powder
1 tbsp coconut sugar (or more if desired)
1 egg
3/4 cup milk of choice (almond, coconut, hemp or regular)
If you like some crunch to your pancakes, try tossing in some chopped pecans, walnuts or sliced almonds. (Mini chocolate chips work great, too!)
Directions:
Combine all ingredients in mixing bowl and mix gently by hand, breaking up any lumps. Heat a large skillet or griddle on medium-low heat and put butter or cooking oil to melt. Using a scoop or spoon, drop pancake batter three at a time, and gently spread the batter down into discs so they are even thickness. Cover the pan and let cook for roughly five minutes. When bubbles start to form on top, flip the pancakes and cook another five minutes. (Note: The pumpkin makes them gooey and easy to undercook, so make sure they feel firm before taking them off the heat.)
Top them with any of your favorites. Mixed berries, vanilla yogurt, pumpkin butter, maple syrup, melted peanut butter, coconut sugar – any and all of these make for delicious toppings.