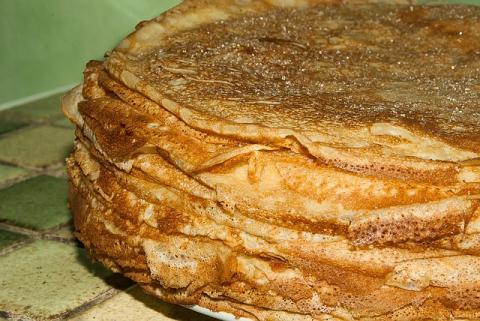 Everyone loves pancakes, especially over the holidays. There's nothing more comforting and indulgent than gathering together with your loved ones over a sticky-sweet breakfast, washed down with plenty of hot tea.
Of course, a lot of that pleasure is diminished when you grow up and realize just how unhealthy that fluffy stack of pancakes is. Add in maple-flavored "syrup" and you have a meal which is going to leave you feeling heavy, sleepy, and in serious need of a salad.
Next time the cooler weather leaves you craving something comforting for breakfast, turn to this delicious gluten-free pancake recipe. It will keep you going all the way until lunch without sacrificing any of the elements critical for pancake breakfast success.
Ingredients
Makes 8 Pancakes & 1/2 Cup of Sauce
For Pancakes:
1 tablespoon ashwagandha root powder
1 tablespoon organic whey powder
2 teaspoons chia seeds
1/3 cup coconut flour
1/4 teaspoon salt
1 teaspoon cinnamon
2 teaspoons gluten-free baking powder
3/4 cup coconut milk
1 teaspoon vanilla extract
1 tablespoon cold water
2 tablespoons melted coconut oil or raw butter, plus extra for pan-frying
2 lightly beaten eggs
For Sauce:
2/3 cup apple juice (or cider for the adults)
1/3 cup applesauce
1/4 cup maple syrup
1 bag mulling spices, or 1 teaspoon cinnamon, 1/4 teaspoon cloves, 1/8 teaspoon nutmeg, 1/8 teaspoon allspice
Instructions
Before making your pancakes, place all sauce ingredients in a thick-bottomed saucepot. Mix well, then set on medium-low heat to reduce and thicken. (If you're using a bag of mulling spices, add them to infuse at this point).  Stir occasionally.
Sift together all dry pancake ingredients.
Mix the wet pancake ingredients, then slowly add the mixture to your dry ingredients. Aim for a smooth batter, but don't worry about a few lumps here or there.
Leave your pancake batter to sit for twelve minutes.
Set a heavy pan or skillet over medium heat, greasing it well with coconut oil, and wait until the oil begins shimmering.
Pour your batter, using approximately 1/4 cup per pancake. Leave plenty of room between each pancake!
Pancakes are ready to flip when the edges are cooked, and the center is slightly dry and riddled with bubbles.
Serve warm with raw butter or coconut oil, sliced apples, plain or vanilla yogurt, and a drizzle of the apple cider sauce. Dig in, and enjoy!