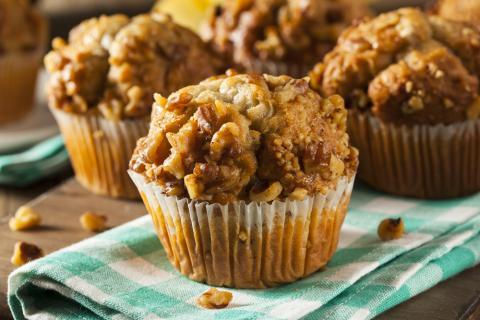 It's easy to write-off sweet baked goods, especially the kind that come in packages from the grocery or convenience store. Often laden with excess sugar, salt, and fat, the common baked good has been unfairly demonized. With the use of real fruit, good quality butter, and whole wheat flour, these Whole Wheat Banana Nut Muffins with Chocolate Chips are as good for the soul as they are for your health.
Banana nut muffins are a classic breakfast item known for their sweet and nutty flavor and use of those sad, overripe bananas. Inherently, banana muffins contain several health properties from the natural fruit and nuts and the whole wheat flour creates a denser, more satisfying treat. I like to add chocolate chips to my batter, too, to satisfy my inner six-year-old. If you have extra time, be sure to toast the walnuts in the oven. The heat will maximize the nutty flavor and improve these simple muffins by leaps and bounds.
Instead of highly refined and processed white flour, I use whole wheat (though spelt, buckwheat, or other whole grain flour would also suit this recipe nicely). You'll also notice that the sugar content is considerably lower than most recipes; that's because the natural sugars from the very ripe bananas add all the sweetness you'll need. These muffins whip together in less than 45 minutes and make the perfect breakfast-on-the-go. Plus, you can freeze extra muffins for up to three months.
Recipe: Whole Wheat Banana Nut Muffins with Chocolate Chips
(Yields 12 muffins)
Ingredients:
1 ½ cups whole wheat flour
1 tsp cinnamon
½ tsp nutmeg
1 tsp baking soda
½ tsp salt
1 stick (8 tbsp) butter, room temperature
¼ cup sugar
2 eggs
3 or 4 very ripe bananas
1 tsp vanilla extract
½ cup walnuts, chopped
½ cup semi-sweet chocolate chips
Method:
Preheat oven to 350 degrees and line muffin tin with paper cupcake liners.
In a large bowl, combine flour, spices, baking soda, and salt. In a medium bowl, beat together butter and sugar with handheld or stand mixer. Add eggs and beat for 1 minute, then add vanilla and bananas and continue to beat until combined. Gently mix wet ingredients into dry ingredients until just combined, and then add nuts and chocolate chips. Batter will be sticky and wet.
Scoop spoonfuls of batter into each cupcake liner. Place on center rack of the oven and bake 20-25 minutes until golden brown. Cool on wire rack. Enjoy!