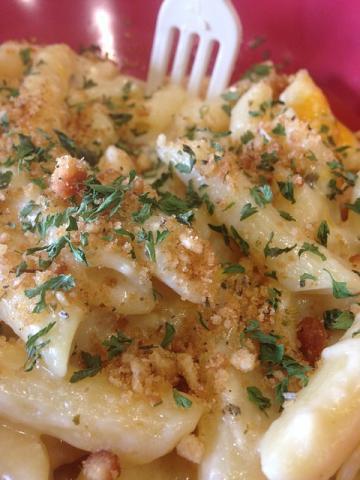 I know I am not alone when it comes to my love of baked macaroni and cheese. Don't allow camping trips or off-grid living to take away the pleasure of cooking. A Dutch oven solves your baking issue (as long as you have a nice heaping pile of burning hot coals). Simply place your Dutch oven on top of the pile of coals and use a shovel to pile more coals over the Dutch oven so that it's completely covered. While your meal is baking, feel free to complete other chores or enjoy the outdoors – just don't go too far: Smokey the Bear is always watching! You'll want to keep enough of an eye on the Dutch oven to make sure you can occasionally add more hot coals to the top if needed (for example, if the weather is particularly chilly).
Cheese may not be the first thing you think of when you think about eating healthy but cheese has plenty of benefits. It is all about how much and how often you indulge in the oooey-goooey goodness. If this recipe is too heavy for your liking, you can reduce the amount of cheese you use, as well as the type of cheese you use. Feta, Cottage, and Swiss are among the healthiest cheese options.
I like to make a simple baked mac & cheese but  for me, it has to be super cheesy, so I use different variations of 3 cheese blends. The recipe I am going to share with you today is one of my 3-cheese combinations: Smokey Bacon Cheddar, Muenster, and Brie.
8 – 12 Servings Total
Ingredients
12 Ounces Smokey Bacon Cheddar Cheese, Shredded
6 Ounces Muenster Cheese, Shredded
6 Ounces Brie Cheese (Remove wax & divide in half)
1 Pound Pasta
1/3 Cup Whole Milk
Salt & White Pepper, to Taste
Crumb Topping Ingredients
2 Tablespoons Butter, Room Temperature
2 Cups Panko Bread Crumbs
About 1/2 Cup Cheddar Cheese, set aside from the above ingredients list
Preheat oven to 350 degrees Fahrenheit if you are using a conventional oven or a wood stove oven.
 If using open fire and hot coals simply make your fire, letting it burn until you have enough coals to completely cover the Dutch oven.
Make the crumb topping and set it aside. To do this, simply add all of the ingredients together, mix them up and set it aside until needed.
Put your pasta to cook in the Dutch oven on top of the fire. When the pasta is ready to drain remove the pot from the stove (be sure to have good heat resistant gloves) and strain through a colander. Put the noodles back into the Dutch oven.
Shred all of the cheeses and separate: The cheddar is for the topping, as well as to mix in. The Brie and Muenster cheeses will be used for the cheese sauce.
Start your cheese sauce when your pasta is halfway done cooking.
In a small cast iron skillet, add the milk and stir with a wooden spoon until it is hot. Add the Muenster and Brie cheeses and stir until they are completely melted. If you need it to be thicker, add more cheese; thinner, add more milk. By this time your pasta should be ready to drain.
Add the cheese sauce straight onto the cooked pasta and mix it together with the wooden spoon. Add the salt and pepper to taste.
Finally, add the crumb topping and put the pan in the oven, baking covered for about 15 minutes at 350 degrees F. Raise the temperature up to 400 degrees F and continue to bake, uncovered, for another 15 – 20 minutes or until the top has the crispy texture you desire.  Those of you outdoors, follow the instructions I gave about using the Dutch oven.
Everyone has their own taste and this recipe can be altered and shaped in so many ways it is incredible. Sometimes I like to sauté some sweet peppers, onions, and mushrooms and add that mixture in when I add the cheese. Again, you can lessen the amount of cheese you use and change the kinds, as well.
Something I love, aside from the taste of baked macaroni and cheese, is the many adjustments that can be made, allowing lovers of the dish to enhance it however it is they see fit. All cooks have their own styles and favorites. Basmati would love to hear some of your favorite spins on baked macaroni and cheese -- drop us a line in the comments section and let's share some cooking info!
*Off-Grid Cooking Tip* When using a Dutch oven and baking in coals be sure your lid is on properly to avoid any ash, coal, or smoke entering your food. Be sure to keep an eye on your coals while cooking. You can stir up the coals and add more hot ones if necessary.