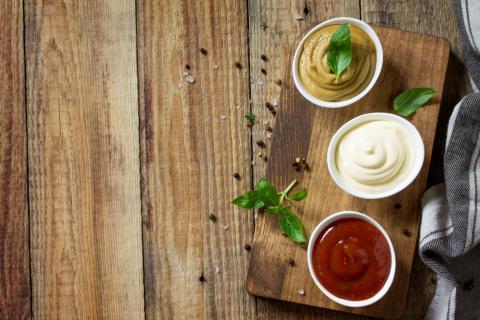 Name the first classic American condiments that pop into your mind. To me, those are undeniably ketchup and mustard. They're everywhere and taste great with a number of dishes. The only problem? Most commercial condiments are loaded with artificial ingredients. Not to mention they're almost always packaged in plastic (which isn't exactly good for the environment).
The recipes below are made with all-natural ingredients and can be packaged in reusable glass bottles. Just reuse a few old mason jars. Or, if you like the feeling of getting a more precise flow, try using a glass bottle with a narrower top (something shaped like a glass coke bottle, for example). Either way, you won't regret the choice to make your own homemade condiments: The taste alone will convince you of that! 
Homemade Ketchup
I love ketchup on my fries. There's nothing like it! But store-bought ketchup cannot compare to homemade, and that's a fact. Give this recipe a try if you have ketchup fanatics living in your home (even if it's just you, which is totally okay, too). The benefit? No added corn syrup (ew).  
Ingredients
2 Tablespoons olive oil 
4 cloves garlic, minced 
1 medium onion, diced 
1 can peeled whole tomatoes 
3 Tablespoons tomato paste 
1/3 cup brown sugar 
1 Tablespoon molasses 
1/3 cup apple cider vinegar 
1 Tablespoon Worcestershire sauce 
1/2 teaspoon chili powder 
1/4 teaspoon powdered ginger 
1/4 teaspoon ground allspice 
1/4 teaspoon cinnamon 
Directions 
First, heat a sauce pot over medium high heat, then add olive oil and onions. Sauté them until they're translucent, which should take about 8 minutes.
Add garlic and sauté for about 2 more minutes.
Now add the tomatoes, tomato paste, sugar, molasses, and cider vinegar. Bring them all to a slow boil, lower to a simmer, and use a spoon to crush the whole tomatoes.
Add the remaining ingredients and continue to simmer, uncovered for 45–55 minutes, stirring occasionally, until very thick. Make sure to keep an eye on it and stir it to keep it from burning.  
Use an immersion blender to puree the ketchup. If you don't have an immersion blender, transfer it carefully to a blender or food processor and process until smooth. (Optional: Strain through a fine mesh strainer.)
Chill in refrigerator for at least 2 hours. The ketchup will continue to develop flavor and thicken. Then, use as planned. 
Homemade Mustard
Mustard is super easy to make and you'll question why you didn't to begin with. It's a regular staple in my household, so why not make it? Just grind some mustard seeds, mix with mustard powder and some liquid, and you're done. Feel free to get creative with the recipe to make your own variation too.  
Ingredients 
6 Tablespoons mustard seeds 
1/2 cup mustard powder 
1/2 cup water 
3 Tablespoons vinegar (cider white wine or sherry) 
2 teaspoons salt 
1 teaspoon ground turmeric (optional) 
2 Tablespoons honey (optional) 
1/4 cup minced fresh herbs (optional) 
Directions
First, grind the whole mustard seeds for a few seconds in a spice or coffee grinder, or by hand with a mortar and pestle. You want them mostly whole because you are using mustard powder, too.
Then, pour the semi-ground seeds into a bowl and add the salt and mustard powder. You can add one of the optional ingredients now too, if you'd like (for example, herbs or honey). 
Pour in the water then stir it well. When everything is incorporated, let this sit for up to 10 minutes. The longer you let it sit, the milder the mustard will be. When you're ready, pour in the vinegar. 
Pour into a glass jar and store in the fridge. More than likely, it will be runny at first. Don't worry, it will thicken up overnight. Wait at least 12 hours before using. Mustard made this way will last a year in the fridge.