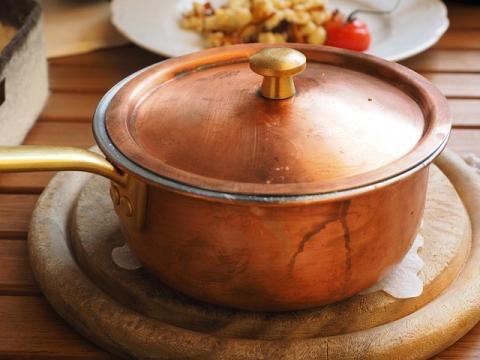 Winter calls for rich, warming foods; here in the Pacific Northwest we've already seen our small share of snow, and forecasts threaten even more. Since we don't see snow or ice very often, travel is severely hindered and there is little to do but hole up inside and cook something delicious.
Lentils are one such tasty food that make a perfect snow day meal. Sure, they can be slow to cook, but the warmth from the stovetop fills the kitchen, and the deep, slowly-built flavors scent the house. The equivalent to a vegetarian roast, lentils can stew for hours on end to make an intensely flavored dish.
My spicy stewed lentils recipe comes from years of grabbing pantry staples and tinkering until I got them just right. I use green lentils here, but brown would work, too. (Red lentils, known for their fast cooking times, would not make a good substitute, however.) The richness in flavor comes from slowly building flavors with onions, garlic, and carrots, with deep notes from the mushrooms and tomato paste - my secret ingredients! Crushed red pepper adds some spice, so a garnish of avocado, sour cream, or even Greek yogurt would be a fine addition. Complete the meal by serving with brown rice or fresh, crusty bread. Enjoy!
Spicy Stewed Lentils
Ingredients:
2 tbsp olive oil
1 yellow onion, diced
2 cloves garlic, crushed
1 cup crimini mushrooms, stems removed and sliced
1 carrot, grated
½ tsp salt
1 tsp crushed red pepper
1 cup green lentils, sorted and rinsed
3 cups water
¼ cup tomato paste
Salt & pepper to taste
Avocado, sliced (optional)
Directions:
Note: The longer your lentils cook, the more deeply flavored they will become. Cooking over lower heat will slow down the process and allow your flavors to build. The recipe below has a cook time of about 30 minutes. For a slower cooking meal, keep heat low and check your lentils often, adding more water as needed.
In a medium pot, heat oil, onion, and garlic over low heat, cook 5-8 minutes. Add carrot, mushroom, salt, and crushed red pepper and cook 5 minutes. Stir in lentils, add water, cover and turn up the heat to medium. Bring the lentils to a boil, then lower heat to a simmer. Cook 10 minutes. Add tomato paste and more water if necessary, stir, cover, and continue to simmer 10-15 minutes. Lentils are done when they are soft, but still maintain their shape. Season with salt and pepper, serve with rice or crusty bread, and garnish with slices of avocado.