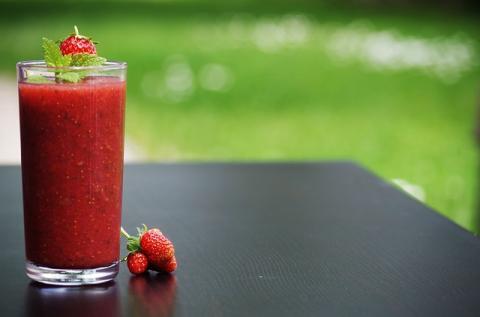 This time of year, there is nothing better than a refreshing smoothie to start your day off right! Smoothies are an excellent opportunity to pack in a variety of nutrients and protein that you normally may not be the hugest fan of. Luckily, a balance of our favorite, delicious and seasonal fruits are enough to mask the flavors our taste buds may not love but our bodies absolutely benefit from consuming. Kale, for example (which people tend to either love or hate), remains to be one of the healthiest and most nutritious plant foods in existence. It is loaded with minerals, compounds that are believed to protect the body against illnesses as serious as cancer, antioxidants including Vitamin C (in fact, 1 cup of raw kale has more Vitamin C than an orange!), and lower your cholesterol! With the combination of the other sweet ingredients in this power-packed blend, you won't even taste it. Smoothies are wonderful unto themselves as a mid-morning or afternoon snack or can also be paired with your granola or cereal of choice as a quick, simple and nutritious breakfast.
What You Will Need:
A blender
1 banana
1 cup of strawberries
½  cup of blackberries/raspberries (preference)
½  cup of pineapple (I always get a fresh pineapple from the closest fruit stand, cut it up into squares and freeze it for smoothies!)
1 cup of kale
1 tablespoon of honey (preferably raw, local honey, which is also beneficial this time of year for allergies)
½ cup of ice
½ cup of yogurt (dairy or dairy-free depending on your selection)
2 cups of milk of your preference (I personally love coconut milk in smoothies)
In order to avoid pieces of kale as much as possible, I find it best to first blend only the milk and kale for about 45 seconds-1 minute. Add in the yogurt and honey and blend until smooth and then add in your fruit and ice. Both bananas and ice are thickening agents, so depending on the consistency you prefer, you can always add more milk to thin out it out. Enjoy!