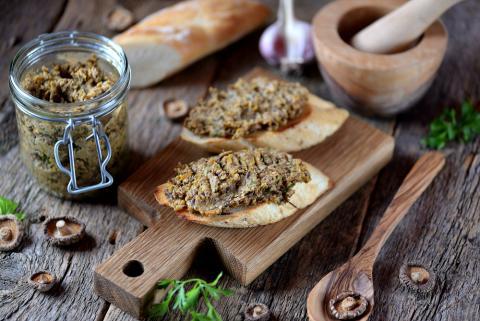 As the cool weather is setting in for some of us, now's the time for some hearty and grounding recipes. In particular, it's a good time to eat up those foods that strengthen the immune system in preparation for the fall and winter cold and flu season.  In particular, this means mushrooms, mushrooms, and more mushrooms. And mushrooms are great for more than just the immune system. They promote heart, liver and brain health along with healthy blood sugar regulation.  Mushrooms are also nutrient-dense, providing a wealth of vitamins and minerals along with good quality protein. 
Here are a few nutrient-dense, immune-boosting and delicious recipes that feature mushrooms.  
Mushroom Pâté
This is a great vegetarian pâté that is fantastic on crackers or bread.  Or blended into polenta or rice dishes.  I also like to eat it simply by the spoonful. 
Ingredients
1 teaspoon extra virgin olive oil
2 Tablespoons additional olive oil or ghee
3 Tablespoons manzanilla sherry
1/4-1/3 cup minced shallots or onions (or a mix of both)
1 pound fresh mushrooms (Use whatever kind you like: button, crimini, portabello, shiitake, maitake, lion's mane, oyster, chanterelles, etc. Or, better yet, a mix of different mushrooms.)
1 Tablespoon chopped sage
1/4 teaspoon thyme
1-2 sprigs fresh parsley
2 Tablespoons grated romano or parmesan cheese
salt and pepper, to taste
Directions
Caramelize the shallots/onions in olive oil and set aside.
Dry sauté your mushrooms.
Add sage, then deglaze the pan with sherry with the mushrooms and sage still in it.  
Add in the shallots/onions, salt, and pepper, and transfer the mix to a food processor or blender. 
Add the cheese, parsley, and 1 Tablespoon olive oil or ghee. Pulse to blend. 
Add additional oil or ghee to reach the desired texture.
Store in a clean jar in the fridge. 
Optional: Pick up some dried porcini from the store, and add about 1 cup boiled water to 1 oz. mushrooms.  Reconstitute 30 minutes to overnight. Strain, chop the mushrooms finely, and add to the mix before blending into paste.   You can freeze the mushroom water for use in other recipes (soups, stews, sauces, gravy, etc.).  
Hearty Mushroom Stew
Just the thing for cool autumn and winter days. Store this in the fridge overnight and it'll taste even more heavenly the next day. 
Ingredients
1 quart mushroom broth
1 Tablespoon extra virgin olive oil or ghee
1 pound mushrooms (whichever kind you want)
2 cups chopped carrots, parsnips, and any other root vegetable you like
5 cloves garlic
1/2 cup minced (non-garlic) allium vegetable of your choice (e.g., onions, shallots, leeks, scallions, etc.) 
small handful chopped fresh parsley
miso, to taste
salt and pepper, to taste
3 Tablespoons manzanilla sherry 
Directions
Chop the mushrooms into pieces no bigger than 1 inch by 1 inch and 1/4 inch thick.  Dry sauté them. 
Sauté the garlic and other alliums in the olive oil or ghee in the stew pot until tender. 
Add the mushrooms and root vegetables to the pot. 
Add the mushroom broth.  Bring the amount of liquid to where you want it using water. 
Simmer for 25 minutes.  
Add the sherry and parsley. Simmer for 5 more minutes. 
Mushroom Scramble
This scrumptious scramble will also support healthy blood sugar regulation during the day.  Have it as a great start to your day or lunch or dinner or…?
Ingredients
1 cup sliced mushrooms
2 large eggs
1 chopped scallion
1 diced garlic clove
1/2 diced pepper (bell, chile, whatever kind you like)
1/2 diced medium-sized tomato
1/2 teaspoon extra virgin olive oil or ghee
1 sprig fresh parsley, chopped
salt and pepper, to taste
Directions
Dry sauté the mushrooms. Keep them in the skillet and add the olive oil or ghee, pepper, garlic, scallion and tomato and cook for several minutes, stirring around so nothing burns. 
Add the eggs, salt, and pepper and stir into the other ingredients in the skillet until the eggs reach desired texture.
Garnish with parsley.