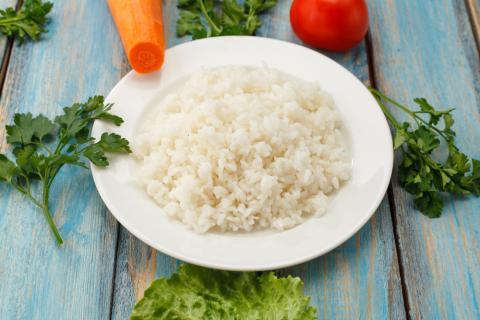 Growing up, my sister and I were vegetarians, which means we learned how to cook meals together that we could both enjoy. This sisterly bonding usually meant that we were about to indulge in a whole lot of carbs. A sodium-filled box of rice or pasta mix accompanied by a frozen vegetable, such as fake cheese sauce-drenched broccoli, was a typical go-to meal for us. So, claiming that we were cooks may be a bit of an exaggeration, but the end result was always fabulously tasty nonetheless (and rather unhealthy).
Now, I've moved into the creative cooking world of veganism, but from what I remember, those instant rice box dinners were never short of amazing. Those herbaceous flavor packets sure did pack a savory punch that brings back comforting memories of my childhood, which is why I decided that I had to come up with a comparable substitute. Who needs boring ol' plain rice anyway? You must try my super simple, undeniably flavorful, satisfying rice pilaf recipe—vegan or not. This quick, yummy twist on traditional rice pairs nicely with absolutely anything and has about 25 fewer ingredients than the boxed varieties we've come to know and regrettably love.
Easy Weeknight Vegan Rice Pilaf
Ingredients
1 cup white rice (can substitute brown rice and simmer for about 50 min.)
2 cups low-sodium veggie broth
2 Tablespoons vegan butter
2 teaspoons dried parsley
1 teaspoon garlic salt
1 teaspoon onion powder
Directions
First, in a large saucepan, over high heat, combine all ingredients.
Then, bring mixture to a boil.
Next, reduce heat to low, cover pan, and simmer for about 20 minutes.
Last, add any mix-ins.  For example, try steamed peas and carrots.