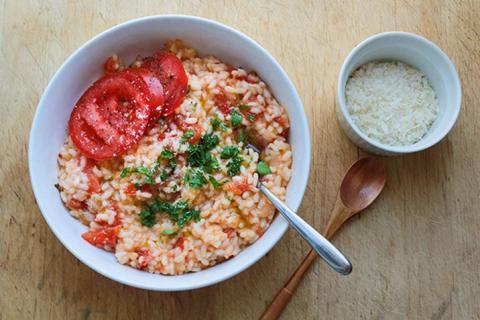 People say that luck is all about being in the right place at the right time. If you're in the Northern Hemisphere now, tasting some of the season's flavorful tomatoes might cause you to feel incredibly lucky. Make them into today's risotto and you'll take those good feelings a step further—yes, it's really this easy to make a delicious, satisfying, adaptable meal. This is how the well prepared become very lucky indeed.
How To Make Risotto
This Meatless Monday series is all about empowering you with plant-based recipes that are easy enough to make on a weeknight, and so satisfying you'll make them on the weekends too. Risotto might at first seem contrary to that ethos since it has a rather complicated reputation: it's well known for being as challenging to make as it is delicious. This column aside, delicious and complicated might seem like an intriguing combination to some, but most of us adults tend to prefer a less fussy form of satisfaction. Lo and behold, risotto does indeed fall into this latter category, despite what you might have heard.
Rice? Check. Stir? Check.
To make a successful, no-fuss risotto, get the right kind of rice, and stir. After that, all that's left is to decide if you prefer a saucy or creamy texture, and practice. Yes, it's really that simple. The right kind of rice in this case is medium grained: arborio, or the less widely available carnaroli. Arborio is more widely used but carnaroli's higher starch content and firmer texture also (some would argue more easily) creates a creamy risotto. On the other hand, you might find that you prefer a saucier texture. In this case, opt for arborio and add a little more water in 1/2 cup increments to the recipe below. In either case, stir like you mean it. After adding each bit of water, a good stir is required so the rice absorbs the water evenly. Follow this advice and you won't have any trouble; try and try again and you'll end up with your perfect risotto, and in between you'll eat very well.
Summer is the season that reminds us that simple food can be some of the best food. With so much gorgeous, fresh produce around, we really don't need to do much to have a great meal. While you can make risotto with many types of vegetables from pumpkin to mushrooms, now is an opportune time for tomato risotto. Whether you have it as a first course, top it with a mountain of steamed kale or zucchini, or simply serve it with a salad, you'll be happy that you did. Who says that luck doesn't exist?
Tomato Basil Risotto (Vegetarian, Gluten-Free)
Serves: 4-6
Time: 1 hour
Ingredients
2 Tablespoons extra virgin olive oil or ghee, plus a little extra for drizzling
1 cup diced onion
sea or pink Himalayan salt and freshly ground black pepper, to taste
1-1/2 cups arborio or carnaroli rice
1 large clove of garlic, minced
1/4 teaspoon red pepper flakes
1 teaspoon fresh thyme leaves
1/2 cup dry white wine
2 cups diced tomatoes
3-4 cups hot vegetable broth or water
1/2 cup freshly grated Parmesan cheese
1/4 cup chopped fresh basil (or Italian parsley)
3 tomatoes, sliced
Directions
Heat the oil in a saucepan over medium heat. Add the onions, season generously with salt and pepper, and cook, stirring from time to time, until soft and translucent, around 5 minutes.
Add rice and stir to coat the grains with oil. Cook for a few minutes, just until the rice begins to brown.
Add the garlic, red pepper flakes, and thyme, and stir.
Add the white wine and tomatoes and cook until most of the liquid evaporates, about 5 minutes.
Begin to add the hot broth or water incrementally, just to cover the rice. As the liquid is evaporated, add more and stir.
Cook for 25 minutes, until the rice is tender but the mixture is still saucy. Remove the rice from the heat and stir in the Parmesan.
Plate, adding drizzles of olive oil to each serving, garnish with fresh basil, tomato slices, and serve.
Additional Cooking Notes
If you're serving tomato risotto on its own, consider adding chopped steamed kale or zucchini to each portion for a more substantial meal.
Photos by Shiraz Leyva